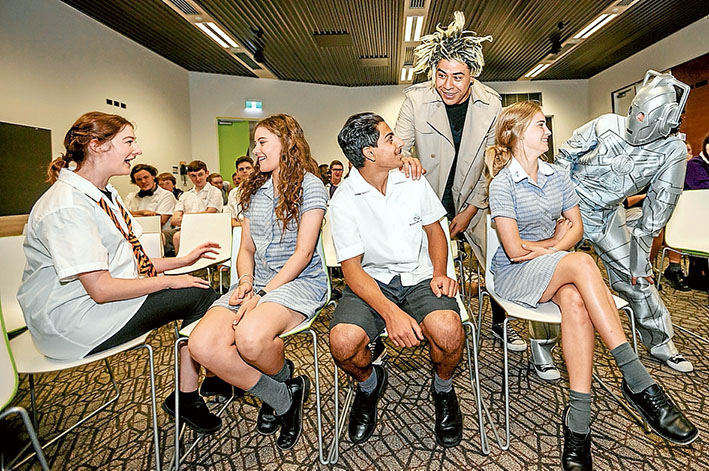 MCCLELLAND Secondary College students enjoyed a theatrical performance with a serious message last Thursday.
The 270 students in years 7, 8 and 9 attended Monash University's Peninsula campus, Frankston, as part of the LEAP Higher Roadshow's  theatre-in-schools performance.
Described as being dynamic, hard hitting, high energy and interactive, the show by theatre company Gibber combined humour, music, multi-media and popular culture to encourage students from low socio-economic communities to aspire to professional careers.
The performances aim to dispel preconceptions or negative attitudes towards learning beyond the compulsory education period.
"For this fun, engaging roadshow, we focused on outer metro and regional Victorian schools, which often miss out on educational outreach activities," LEAP program manager Peter Doolan said. "It's been a huge success with students and teachers alike.
"The show engages, inspires and informs students to see the value and importance of school and higher education, and the many different pathways they can take to pursue their dream careers."
At Frankston, students took part in hands-on workshops on Health and Design – two of LEAP's six profession areas. The gained insights into the many varied careers and roles these broad professions offer – many they may not have heard of, or encountered, before.
"We aim to engage with secondary school students to demystify the links between school, higher education and professional careers," Mr Doolan said.
"We offer a range of campus, workplace and school-based activities, along with online resources, to help students and their families learn more about pathways into different professions."
The program also highlights careers in business, engineering, law and sciences, with activities designed to encourage students to raise their aspirations.
The role of higher education in these career paths is explained and students are encouraged to explore their options.
Since 4 November, 20 schools and 2970 students throughout western Victoria have enjoyed this popular event. LEAP Higher Roadshows will play to 13 more schools and 1150 students in eastern and north central Victoria, finishing in Wodonga on 8 December.
LEAP is funded through the Commonwealth Government's Higher Education Participation and Partnerships Program (HEPPP). It is a collaboration of the eight Victorian universities and the Victorian campus of the Australian Catholic University, Department of Education and Training, Catholic Education Commission of Victoria and Independent Schools Victoria.