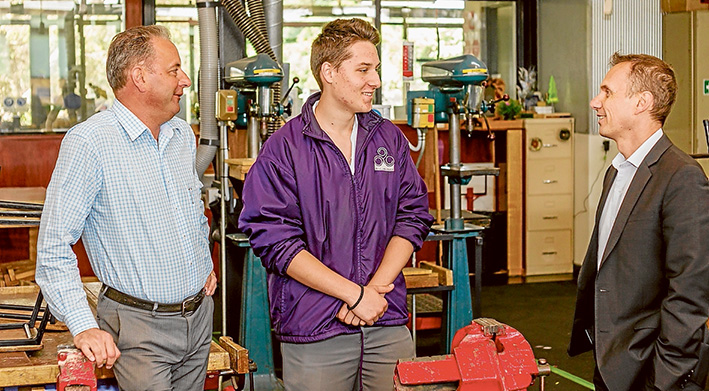 A FRANKSTON student is one of the first recipients of a new VCAL scholarship launched earlier this year.
McClelland Secondary College student Aleks Radenovic, 16, has been awarded a Lynne Kosky Memorial Scholarship from the state government to help him work towards his goal of becoming an industrial electrician.
The Year 10 student plans to study the Victorian Certificate of Applied Learning (VCAL) instead of the VCE next year and the grant will enable $5000 annually to be directed towards his education costs.
Teacher Rowly Richardson said Aleks' mother passed away after an eight-year battle with cancer and he now lives with his uncle and aunt.
The school put forward the teenager as a candidate for the scholarship since he had shown a willingness to overcome personal hurdles and further his education.
"He's someone who really values his education so we put him forward as someone who epitomises what's VCAL is all about. Aleks said 'I don't want to go to uni – I want to use my hands'. Without noticing it, he's put a lot back into the community over time."
VCAL students at the school often work on repair jobs at community venues.
Aleks said he is "pretty happy" to receive the scholarship.
"It'll make a big difference because I won't have to worry about costs or anything. I can just focus on what I want to do."
The Lynne Kosky Memorial Scholarship is named in memorial of the former Labor education minister who was diagnosed with cancer and died late last year, aged 56.
Gemma-Mae Stemp, from Kurunjang Secondary College in Melton, was the other recipient of the scholarships in their first year.
Deputy Premier James Merlino said the scholarships pay "testament to Lynne's tireless efforts in ensuring that Victoria's education and training system remains accessible to everyone."
"Congratulations to our two recipients, Ms Stemp and Mr Radenovic. They are both excellent examples of how our dedicated schools and teachers are supporting hard working young Victorians to be their best."