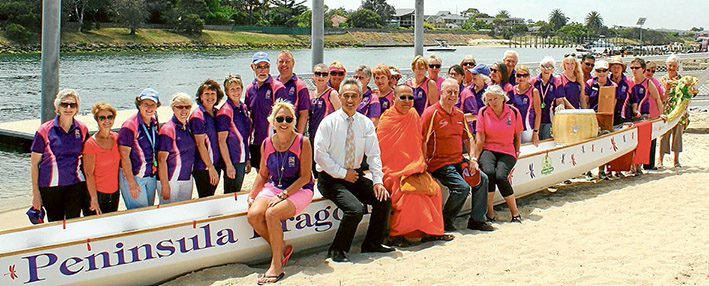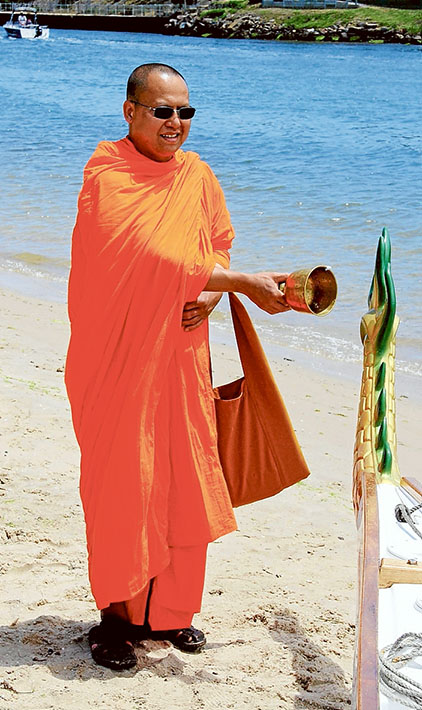 DRAGON'S Abreast Peninsula Dragonflys celebrated the blessing of their newest dragon boat, named Bella, on last Saturday (5 December) at their home base on the banks of the Patterson River in Carrum.
The Dragonflys, part of the Dragons Abreast organisation, offer breast cancer survivors a chance to meet others with similar experiences and have fun while exercising by rowing boats along Patterson River.
A traditional Buddhist blessing was performed by Buddhist Monk, the Venerable Thong Dang, and included the symbolic tying of string from the gold Buddha to Bella, followed by the blessing of the boat and all of the club paddlers.
"It was a very special occasion for us as a club," club president Tricia Lewis said.
"Bella is Peninsula Dragonflys' third dragon boat. We are now fortunate to have two 20s (paddler) boats, named Bernie and Bella, generously donated to us by Bernie Taylor of the Grand Hotel, Mornington.  Our third boat, a 10s (paddler) boat named Carly, was a surprise a few years ago as part of the Secret Millionaire television programme". 
The blessing was a moving ceremony attended by enthusiastic members of the club as well as Dragons Abreast Australia board member Anne Stowe, members of sister DAA club DA Ballarat and representatives of Bendigo Bank, John Bainbridge and Kristy Marshall, who have also financially helped the club.
"I must also extend special thanks to Charles Zhang for his cultural insight and assistance in organising the blessing and to our club vice-President Linda Young for all her hard work in planning this event," Ms Lewis said.
The Peninsula Dragonflys are a Dragons Abreast dragon boat club located at the Patterson Lakes Canoe Club, Carrum.  Currently the club has 60 active members who are breast cancer survivors and supporters.  The members come largely from the Mornington Peninsula and Melbourne south-east suburbs.
The club will celebrate its 10 year anniversary next year.  New members can contact Tricia Lewis on 0407 539 382.