By Ray Macgrotty, Record City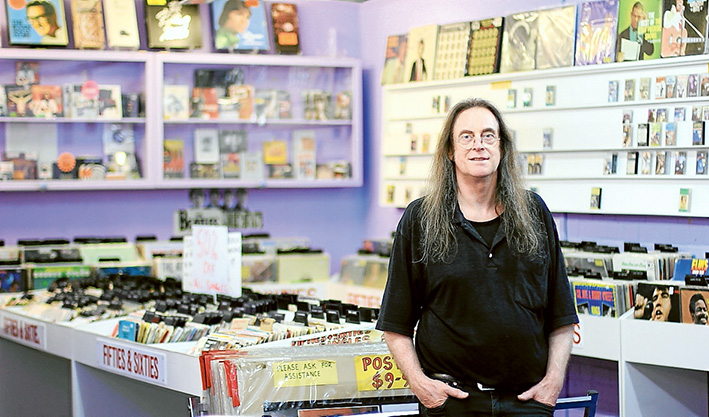 AFTER thirty years in business it's pretty hard to accept that Record City is now closing up shop.
About 12 months ago we were advised that City Arcade had been sold and that plans were being made to redevelop.
Thankfully the new owners allowed us to stay on for a while until the plans were finalised.
We gave some thought to relocating but after such a lengthy time in the one spot, it was decided that it was just too hard to move and start all over again.
As of the 31 December, Record City is officially closed.
It's been a great adventure and we have seen many changes over the years.
Back in the mid eighties I would never have dreamed that after about seventy years of artists making records that it would almost be killed off by the introduction of the compact disc, then ultimately downloads and online shopping .
However, our customers wouldn't let go of their precious vinyl, so we just kept buying it by the ton, much to surprise of most people who said I was mad because it was dying out. Well guess what?
Anyway we showed 'em!  We ended up having one of the largest stocks of vinyl in the country, much to the envy now of the shops who abandoned vinyl for those 'self draining drink coasters' (which are now on their way out…)
I believe we were the first second-hand record store in Australia to obtain accounts with all of the major (and independent)  record companies.
We also imported huge amounts of vinyl from overseas which gave us an edge over some of the larger retailers.
I really enjoyed being able to get records and CDs that people wanted, and it felt like Christmas every time I unpacked a delivery. I will miss that.
I've been asked many times why we didn't decide to move to a new location,  but the thought of shifting over 50,000 records, cds, tapes, posters, memorabilia etc and having to start building and painting and carpeting etc, was just too mind blowing after thirty years of dedicating my life to the shop I had grown to love.
Actually I was going to chain myself to the counter and refuse to go but when I heard the sound of the bulldozers coming, well, I guess I had to accept that there is a new adventure waiting around the corner (maybe it's another record store?)
Anyway, we would like to thank our many loyal and happy customers who have supported us over the years and hope you enjoy listening to your records and cds for a long long time.
Also, a big thank you  to all the people who have told me how much they enjoy reading the 'Classic album' reviews in Mint Magazine each month, which I will continue doing.
Thanks heaps for the trip, it's been a blast!
T

his article was originally published in

 

the December edition of The Times' sister music and entertainment magazine Mint Magazine.