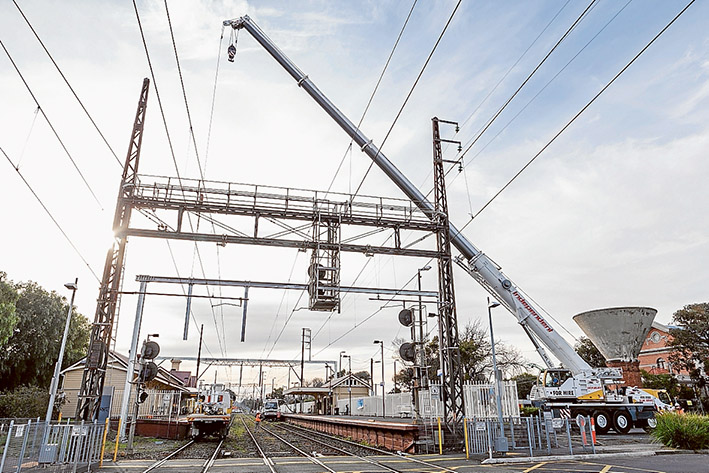 PLANS to remove level crossings along the Frankston line using elevated rail are still up in the air according to the state government.
Plans for a so-called 'suburban sky-rail', with rail lines raised two storeys above street level, have been submitted to the government during the tender process for the Dandenong rail corridor upgrade.
There are suggestions elevated rail could be built at southern sections of the Frankston line including Carrum and Bonbeach.
Underground water close to Port Phillip Bay and Patterson River may mean tunnelling is not a viable option at some level crossing intersections.
Labor Public Transport Minister Jacinta Allan says no final decision has yet been made on whether rail will be elevated at any point along the Frankston line.
"We promised to remove the eight remaining dangerous and congested level crossings on the Frankston line, and we are still considering the best way to do that," Ms Allan said.
"Consultation with local residents will take place this year, and will inform how the dangerous and congested level crossings on the Frankston line will be removed."
Liberal opposition spokesman for planning David Davis said bayside voters should have been consulted about "a railway line high in the air" before last year's state election.
"It would be visually unappealing near Melbourne's great beach assets and will have an extraordinary impact on those who live near it with deafening sound," Mr Davis said.
"It is an option that was not laid on the table before the election and no-one voted for this."
An office of the Victorian Government Architect report released in 2014  found an elevated road or rail structure is "often a cheaper solution" but "will have a significant physical presence and impact on a place" ('Elevated rail debate', The Times 15/6/15).
RMIT University lecturer on urban design Ian Woodcock told The Times last year he believed elevated rail lines are a good solution since they free up land for other uses underneath the rail line.
"You can use the land for all kinds of stuff. You can create open public land there," Mr Woodcock said.
"You can put shops around the station area and integrate it better with the neighbourhood. There's potentially a huge public benefit with elevated rail at the right locations."
Mr Davis acknowledged elevated rail may be the best option at some, but not all, level crossing sites.
"Nobody is arguing that there's no location where this may be part of what's required but this is being proposed as a solution on several lines for long distances and it's clearly going for the cheapest option," he said.
"Cost control is important but not at the expense of long-term outcomes. These level crossing removals … are a once in a century change and it has to be done right.
"There has not been genuine community consultation on this."
The Labor state government had pledged to separate 50 level crossings across Victoria within eight years including eleven along the Frankston line.
Frankston Council acting CEO Tim Frederico said council had been briefed on grade separation projects "but there has been no discussion regarding a raised rail network".
RACV public policy general manager Brian Negus has said all options must be looked at to separate rail from road at level crossing intersections.
"Two examples where elevated rail solutions may well be the superior alternative are the Dandenong and Frankston corridors.
"The key to finding the right solution is through good planning and urban design and consultation with the community."