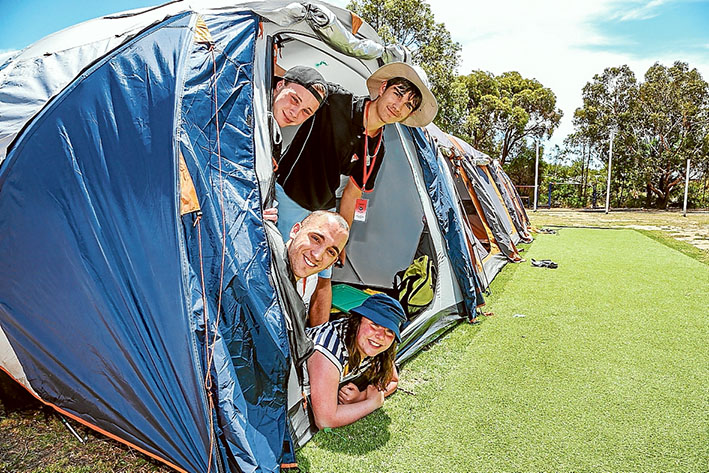 CHLOE Hart went surfing with her group Monday morning, while Jacob Plummer spent time at Sorrento, swimming with dolphins.
The Frankston pair was among 50 teenagers, aged 15-17, attending the diabetes camp at Somers last week. They also enjoyed 10-pin bowling, movie and trivia nights, and a disco at the supervised camp with its 27-strong team of volunteers, diabetes nurse educators, onsite doctor and dietitians.
"It's my first time at camp and I love it," Chloe said. "All the people have been really kind and open to talk to. It's great to be around people who understand diabetes and what it's like to live with it."
Jacob said: "It was my mum's idea and she signed me up for camp. First, I wasn't too happy about it, but now I am glad she encouraged me to go. It is a great experience, so much fun."
Jacob admitted living with diabetes "can be hard at times".
Since his diagnosis three years ago, he has had to follow a strict routine. He counts the carbohydrates of everything he eats, regularly checks his blood glucose levels and injects insulin four times a day. This hormone, which his pancreas fails to produce, is vital to turning glucose into energy and distributing it to every cell in his body.
While Jacob can never take a vacation from his type 1 diabetes, he says he enjoyed spending time with the other teenagers from all over Victoria who understand what his everyday life is like.
"Diabetes Victoria camps for children and teenagers with type 1 diabetes are a shining light of the organisation," Diabetes Victoria CEO Craig Bennett said.
"The young people learn to live well with their chronic condition in a fun environment."
Around 2900 Victorians under 18 live with type 1 diabetes. The condition is twice as common as it was 20 years ago. There is no cure.