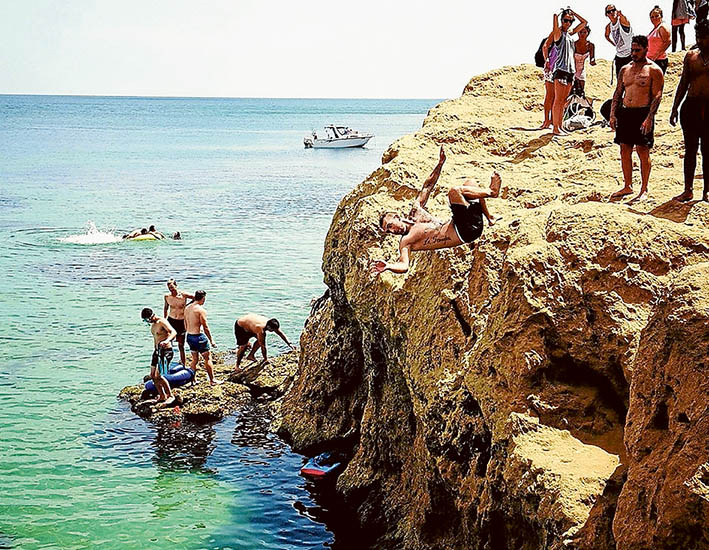 ON hot days, police and Mornington Peninsula Shire rangers are busy booking motorists parked in No Standing areas or banked up opposite double lines near Mt Martha's now famous swim spot, The Pillars.
Their owners don't seem to care: they are too busy jumping from the rocky outcrops or taking selfies with their friends on the cliffs or in the water.
Hundreds are flocking to the go to summer bathing spot on the Esplanade between Marguerita Av and Deakin Drive every hot summer's day.
The spot even has its own Facebook page.
Despite warnings from medical experts, the cliffs are a magnet for daredevils and onlookers who carry towels, umbrellas, eskies – and even barbecues – down the rugged cliffs. It's party time in scenic surroundings.
Mornington police sergeant Kylie Vaughan said officers book 15-20 cars "every nice day", and would work with shire officers to erect signs warning drivers of the parking risks.
"The Pillars is promoted all over social media and they come from everywhere because it's fun," she said.
But it can be dangerous: A Hastings teenager died after jumping from the rocks a few years ago and a woman, 25, cut her head and received neck injuries after hitting into rocks while jumping, Tuesday 19 January. She was taken to Frankston Hospital before being transferred to The Alfred.
Two jet skis collided Sunday afternoon 17 January, knocking a man in his 30s unconscious. He sustained a neck injury and was taken to Frankston hospital.
Although some residents complain about blocked streets, litter and even urinating in nearby streets, at least one real estate agent has been using the phrase "close to The Pillars" as a carrot for potential buyers.
The shire's environment protection manager David Dobroszczyk said the shire was coordinating with police to address illegal parking and the blocking of driveways near The Pillars.
"The shire and VicPol have issued a number of infringements for illegal parking, and the frequency of patrols in the area has been increased," he said.
"The shire is reviewing traffic management and parking restrictions in the surrounding area."
Pedestrian safety along The Esplanade was being improved by allowing extra space on the shoulder "for people to walk more safely".