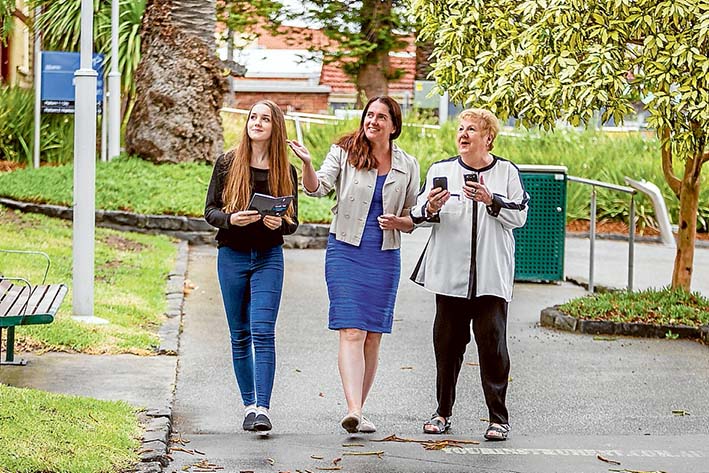 MODERN technology will bring Kingston's past to life with an innovative virtual walking trail that explores the rich history of Mentone and Mordialloc.
Kingston Libraries has launched the online Historical Walking Trails featuring a self-guided tour of some well-known and hidden historical gems in the area.
Highlights of the Mordialloc Historical Walking Trails include:
Henwood Cottage built in 1887

Mordialloc Creek murals

Coolullah House, a prime example of modernist art deco design.
Highlights of the Mentone Historical Walking Trail include:
Villa D'Este built in1890s and named after a famous estate on Lake Como in Italy

Mabernoul, built 1900, is a classic Victorian Bungalow

Frogmore House a magnificent Tudor style home built in 1910.
Kingston mayor Cr Tamsin Bearsley said the project made it easy to discover and celebrate Kingston's history.
"The virtual walking trail has combined the popular Mentone and Mordialloc Historical Walking Trail booklets with modern technology for a unique audio-visual tour," Cr Bearsley said.
"It's a great way for our older residents to reminisce and for younger people to find out how the local area has changed and discover the threads of history that still surround us today."
The project was supported by the property owners who kindly allowed their property to be included, Kingston Historian Dr Graham Whitehead and the Mordialloc and District Historical Society.
To use the walking trail on your mobile device simply:
scan the QR code on the Historical Walking Trails sign at the start of each trail at either the Mentone Train Station or the Horse Statue at Mordialloc beach.

access the virtual trail through the Kingston Libraries website kingston.vic.gov.au/library

pick up a Historical Walking Trails booklet and scan the QR code. Booklets are available at Kingston libraries, Kingston customer service centres, Kingston Arts Centre, the Shirley Burke Theatre and the Mordialloc and District Historical Society.
Cr Bearsley encouraged anyone who was not familiar with using QR codes on their mobile device to drop in to their local library for help or simply use the booklet on its own to complete the tour.
First published in the Chelsea Mordialloc Mentone News – 3 February 2016