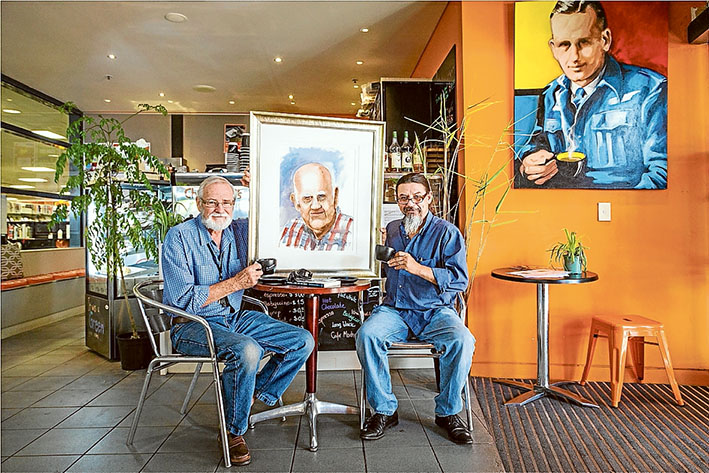 ONE of Frankston's favourite sons has been recognised by having a cafe at Frankston Library named in his honour.
Cafe owner Yvens De Camargo decided to name the coffee shop after World War II veteran turned author Don Charlwood when he read about his wartime experiences and successful literary career.
"I thought 'This guy is amazing. He's like an unsung hero. We need to do something'," Mr De Camargo said.
Long-time Frankston resident Mr Charlwood, who died in 2012 aged 96, flew in 30 bombing missions as a RAAF navigator in Lancaster bombers during World War II and he and pilot Geoff Maddern were the first 103 Squadron crew to survive a tour in nine months.
He later reflected that of the 20 men who had qualified as navigators with him, only five were still alive at the end of the war.
Mr De Camargo said Mr Charlwood's widow, Nell, visited the library last week and was thrilled to see two portraits of her late husband on display.
"She told me she used to be a librarian," he said.
After World War II Mr Charlwood worked as an air traffic controller at Melbourne Airport but also turned his hand to writing books and wrote 11 books including No Moon Tonight (1956) about his wartime experiences. His 1965 novel All The Green Year, about three boys growing up on the eve of the Great Depression, became a classic and was studied in high schools for decades afterwards.
Frankston mayor Cr James Dooley said Mr Charlwood's legacy lives on through his books, including All The Green Year and Marching as to War.
"It is wonderful that the Library Cafe has been named after his honour. We hope that this helps to keep his name – and important works – alive for generations to come."
See 'Don Charlwood recalls utter futility of war'.