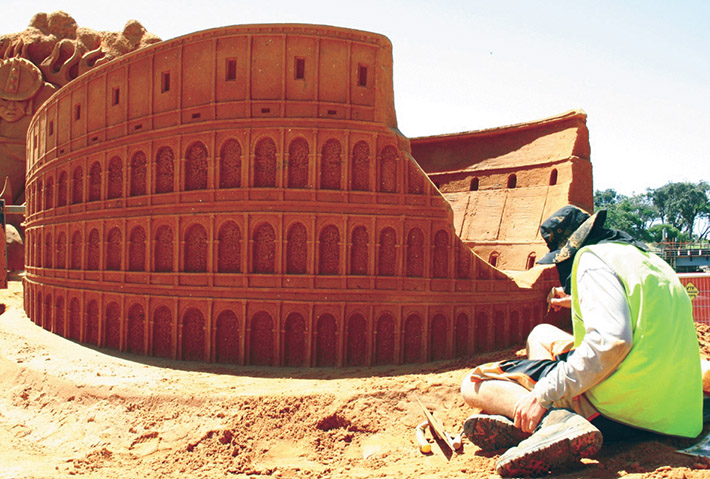 THE sand sculpture exhibition at Frankston's waterfront could become an all-year round display thanks to a $750,000 federal government grant to build a weatherproof shell to house the sand sculptures.
The grant, part of a federal nationwide $3.6 million Tourism Demand Driver Infrastructure program, will see exhibition owners Sandstorm Events build a 'clear span structure' at the sand sculpture exhibition's Nepean Hwy home.
"I am beyond excited that Sand Sculpting Australia has been a successful recipient of the latest TDDI grant – and am both proud and thrilled with the belief in sand sculpture as a national tourism product for Victoria," Sandstorm Events managing director Sharon Redmond said.
The company says the sand sculpting exhibition, lured from Rye by Frankston Council in 2007, has injected an estimated $100 million into Frankston's economy since its debut on the waterfront.
Federal Dunkley Liberal MP Bruce Billson said the investment in a sheltered venue for the sand sculptures exhibition would help attract more visitors to Frankston all year round.
The clear span structure will be weatherproofed and include lighting displays for sand structures. The exhibition, with a different theme each year, usually runs over the summer months.
"This is all part of our plan to create more jobs and economic opportunity in our region and builds on the Turnbull Coalition government's investment in the redevelopment of the Frankston Yacht Club foreshore precinct as a real magnet for our city by the bay," Mr Billson said.
Frankston Council welcomed the $750,000 investment but said the year-round exhibition will still have to be approved by council.
"This $750,000 grant is a huge vote of confidence in the significance of the Frankston Sand Sculpting Australia exhibition and the Frankston Waterfront as a tourist destination," Mayor Cr James Dooley said.
"Since it first began in December 2007, the annual exhibition has become a hallmark event that sees tourists return to the Frankston Waterfront every year to view their latest exhibition. So much so that the Sand Sculpting Australia exhibition will receive its one millionth visitor within the next two weeks."