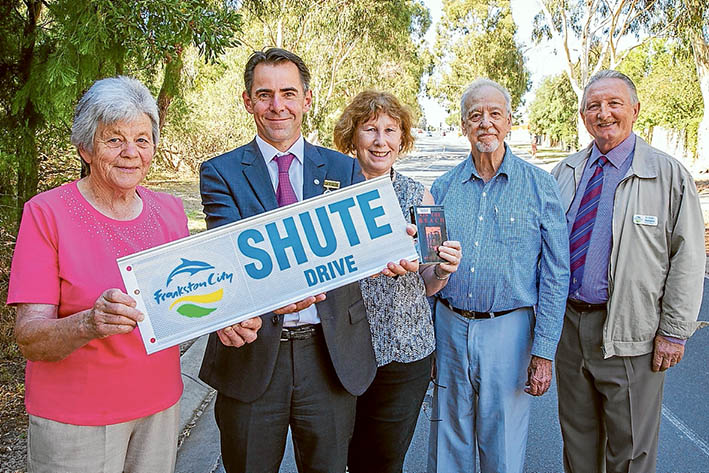 FAMED novelist Nevil Shute has been honoured with the naming of a Langwarrin street in his honour.
The English aeronautical engineer turned author Nevil Norway, who adopted the penname Nevil Shute, called Australia home in later life.
Shute's 1957 post-apocalyptic book On The Beach, about a group of people in Australia facing the end of life on Earth after a devastating nuclear war in the northern hemisphere, was adapted into a movie.
Parts of the 1959 Hollywood production starring Gregory Peck, Ava Gardner, Fred Astaire and Anthony Perkins were filmed in Frankston.
Frankston mayor Cr James Dooley joined historians and representatives from Langwarrin community groups to officially name the street, located off the main entrance to Lloyd Park Reserve, last Tuesday (1 March).
"Nevil 'Shute' Norway lived a life rich enough to have made up four lifetimes," Cr Dooley said.
"A talented aeronautical engineer, sailor, pilot, journalist, writer and later a racing car driver, Nevil emigrated to Australia from London in 1950 after World War II with his wife Frances and two daughters Heather and Shirley.
"Here he took on the role of a farmer and ran 'Devon Park' a 20 acre property on Robinsons Rd in Langwarrin – that he extended to 100 acres during his time."
The mayor said Shute's efforts as a writer had left a great legacy for the world.
Several of his 24 published books were adapted into movies including On The Beach, No Highway and A Town Like Alice.
For the past three years Langwarrin resident David Dawson pushed for a suitable way to acknowledge Shute's legacy in the Frankston area.
Mr Dawson, originally from Stoke-on-Trent in England, said he had long been an admirer of Shute's life and work.
"He was a schoolboy hero of mine. I read his books when I was young and then in 2011 I got in touch with Nancy Anderson at the Nevil Shute Foundation to borrow his books and read them all within a year," Mr Dawson said.
"I thought that a street should be named after him and I'm glad to see it's all come together."
Nancy Anderson, the Australian librarian for the Nevil Shute Foundation, said foundation members from all over the world are elated about the street named in Langwarrin in Shute's honour.
"I've had emails and so many of them are so very happy about it happening. There are not many incidences in the world where he is commemorated," Ms Anderson said.
Cr Dooley noted Shute "put our city on the map" but he also made significant contributions to the community, "many of which were either made anonymously or without any pomp and splendour including making contributions to support many struggling families in Langwarrin".
A replica blade bearing the street name Shute Drive was presented to the Nevil Shute Foundation at the official street naming ceremony.