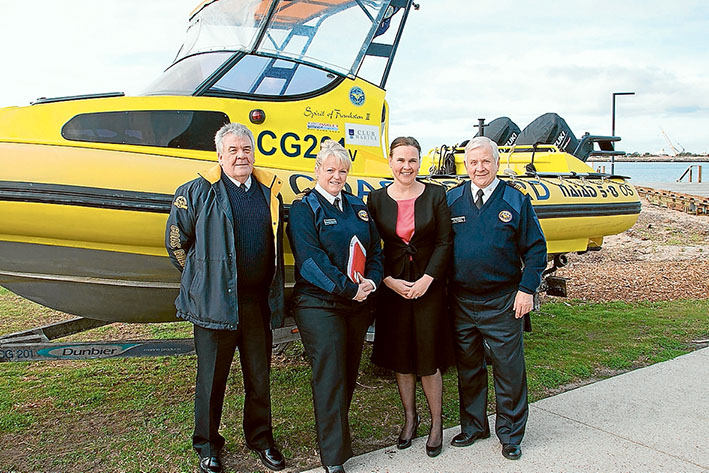 The Australian Volunteer Coast Guard and the Boating Industry Association of Victoria (BIAV) have supported a review of the current structure of marine safety activities in Victoria to strengthen the organisation and sustainability of the volunteer marine rescue services.
In a meeting with the Emergency Services Minister Jane Garrett and Victoria's Emergency Management Commissioner Craig Lapsley, both the BIAV and the Volunteer Coast Guard raised the importance of having a coordinated approach with all marine rescue services and the development of an efficient interface between volunteer services and government agencies.
"The meeting with Minister Garrett and Craig Lapsley, responsible for developing a new framework for marine safety in Victoria, provided an important opportunity for the Volunteer Coast Guard to put forward concerns in relation to future funding programs and the need for a coordinated framework," Volunteer Coast Guard squadron board advisor Richard Burgess said.
"We have also raised the issue of the importance that any new framework needed to provide the opportunity for the volunteer marine rescue operation in Victoria to retain a strong community identity."
Mr Burgess said that as a result of the meeting with Mr Garrett and the almost immediate commencement of a consultation process, the Volunteer Coast Guard has ceased its campaign of restricted services.
Steven Potts, CEO of the Boating Industry Association of Victoria said the Volunteer Coast Guard, with over 750 volunteers, along with other marine rescue groups and Victoria Police were a major and vital part of the boating and marine industry in Victoria.
Mr Potts said the development of a new framework for the Marine Rescue Operations in Victoria was an important foundation for the marine industry in Victoria, which contributes $4.5 billion annually to the State economy with safety on the water underpinning consumer confidence.
"Apart from the emergency services provided, the volunteer marine rescue organisations play an important role in their local communities.
"Currently 95 per cent of the 172,000 of Victorian recreation vessels are trailered, less than 8 metres in length with 68 per cent of registered boats being operated on Port Phillip and Western Port Bays.
"The projected increase of the population in the central coast area of Victoria, including Port Phillip and Western Port, from 4.6 million to nearly 8 million by 2050, will see a doubling of boating activities. The BIAV see the framework now being developed by the Victorian government as part of ensuring we have a robust and sustainable marine rescue service for future generations."
Mr Potts said the BIAV looked forward to working with the state government and the Volunteer Coast Guard through the consultation process.