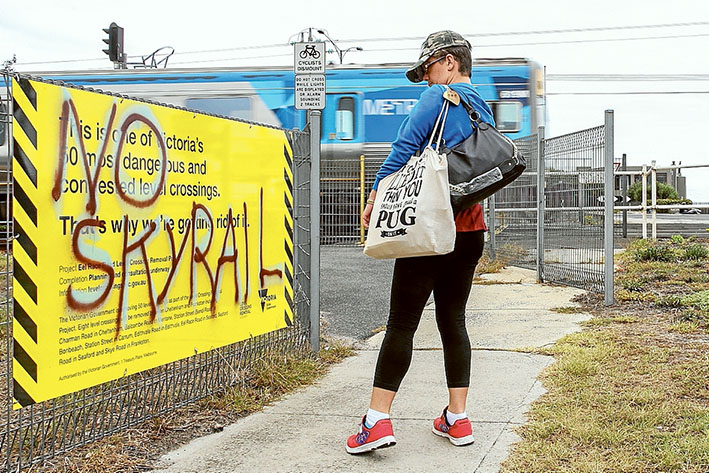 KINGSTON councillors have opted not to formally oppose elevated rail for the Frankston line but have voiced concerns about state government-led consultations with the community over plans to remove level crossings along the rail line.
Councillors overwhelmingly voted against a proposal by Cr Paul Peulich tabled at last month's public council meeting that called on council to oppose any sky rail design for the Frankston line and demand the Labor state government "abandon any plans" for sky rail.
"There is already a lot of angst out there," Cr Peulich, a Liberal Party member who sought the party's endorsement as federal candidate for Dunkley, said at the meeting.
"Council needs to act now."
Some councillors who voted against opposing sky rail said they personally opposed an elevated rail option but feared council would lose its voice in consultations with the government if council adopted an official anti-sky rail stance.
Mayor Cr Tamsin Bearsley opposed Cr Peulich's proposal since she believed it would be best for council to be at the negotiating table with the state government.
"I am broadly in agreement that council should strongly oppose the sky rail design for the Frankston line [but] am not in agreement with the way Cr Peulich has set out how he wants to do it," she said.
Cr John Ronke noted "hundreds of people" have voiced concerns about sky rail and the consultation process managed by the Level Crossing Removal Authority (LXRA), a Department of Transport organisation overseeing the separation of rail and road at 11 level crossings along the Frankston line.
He described sky rail as "a monstrosity and disaster for the community" but said council is best placed to facilitate discussions between the state government and the community.
"We could very well lose our seat at the table for future discussions if we've already formed a view," Cr Ronke said.
Cr Geoff Gledhill said "there are other alternatives" and sky rail should be dropped as a possibility since "it has such a long-term impact on the people who live near it".
"It's become an emotive subject which is unfortunate because it's an infrastructure project to remove level crossings [and] we all want that," he said.
Crs Peulich and Gledhill voted for council to formally oppose sky rail. Crs Tamara Barth, Bearsley, Ron Brownlees, Ronke, Steve Staikos and Rosemary West voted down the proposal. Cr David Eden abstained from voting.
Councillors instead decided to write to Premier Daniel Andrews, the LXRA and Transport Minister Jacinta Allen to increase consultations with council and the community and release more detail on plans to remove level crossings.
"Our community deserves to be given all the relevant information of the different options such as sound reports, engineering assessments, indicative drawings and estimated costs so they can make an informed decision and have their opinion clearly heard and taken into account," Cr Bearsley said in a statement issued by council.
The LXRA announce options for level crossings removals along the Frankston line in mid-year and will then make a final recommendation on a preferred option to the state government at the end of this year.
First published in the Chelsea Mordialloc Mentone News – 13 April 2016