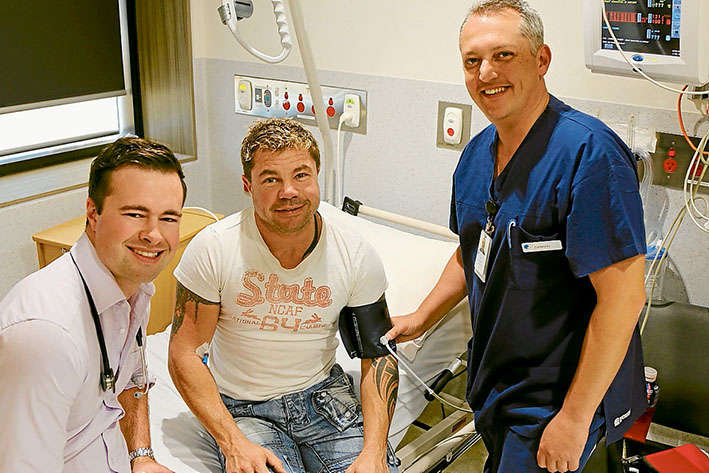 FIT and active, lean and strong … that doesn't sound like the CV of a potential heart attack victim, but the biggest killer of adult Australians is anything but predictable.
To prove that point, more than 100 patients have gone through Peninsula Health's new chest pain unit in less than two months and one, Pearcedale's Dale Worthington, certainly doesn't fit the mould of the usual victims.
Mr Worthington, a 41 year old kitchen-and-bathroom renovator, was at work when he experienced a loss of breath and tightness in his chest.
He went straight to his doctor who referred him on to Frankston Hospital where he became the 101st patient to go through the Rapid Assessment Chest Pain Unit which was opened by Premier Daniel Andrews and Health Minister Jill Hennessy only in February.
At the unit, specialist cardiologists provided a quick assessment of his chest pain – one of more than 2000 patients they will see each year.
An ECG showed fluid around his heart.
"If I was a smoker or drinker or obese I'd know that I have to change my lifestyle, but, in my case, I'm not really sure what I'll have to do", he said.
Access to the unit was a lifesaver for Mr Worthington whose heart was racing at 199 beats per minute. "I am normally very fit; I watch what I eat and weigh my food and count the calories so I can compete in body building," he said, which makes the exact cause of the problem hard to pinpoint.
Heart issues on both sides of his family may provide a clue.
Even after concerted efforts by doctors and the absorption of beta blockers, Mr Worthington's heart was still pounding away at 114 beats per minute but, thankfully, stabilised a few days later at 75 beats.
While still having all sorts of tests, Mr Worthington said treatment at the new unit had made the inconvenience at least bearable. 
"I had the best experience," he said. "The unit is fantastic and the staff were amazing."
He says he'll be paying more attention to his health from now on.