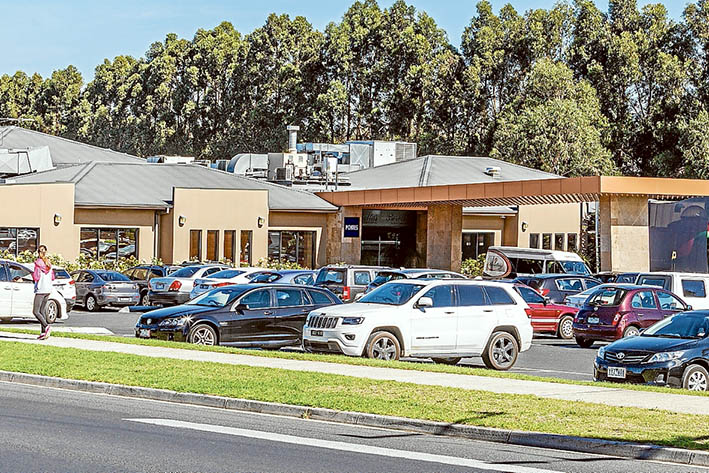 VICTORIA'S gambling regulator has decided that the offer to build a weatherproof children's play area at a Langwarrin pub is a significant reason to allow 10 more poker machines to be installed.
The Victorian Commission for Gambling and Liquor Regulation (VCGLR) ruled late last month that the Langwarrin Hotel can increase the number of pokies at its Cranbourne-Frankston Rd venue from 52 to 62 despite opposition from Frankston and Casey councils.
As part of the application to install the extra electronic gaming machines (EGMs) hotel general manager Peter Beretta stated in a written submission that a planned upgrade of an existing children's play area at the pub would be scaled back and unroofed "if approval for these additional gaming machines is not obtained" ("Push for more pokies is kids play", The Times 18/1/16).
VCGLR commissioners Helen Versey and Des Powell found "the potential benefit to the Langwarrin community to utilise a weatherproofed facility that does not already exist within the area to be reasonably significant in the circumstances" is a social benefit as part of the decision to grant the licence for more pokies at the hotel.
"Creation of separate spaces for all age groups will allow children of all ages to utilise the facility, which will in turn encourage more families to make use of the premises during the day," the commissioners declared.
Frankston Council argued in a 40-page submission to the VCGLR against the extra pokies that vulnerable problem gamblers in the pub's low socio-economic catchment area would be at greater risk of losing more money if the EGMs were approved.
The VCGLR stated "the premises is located in an area of relative advantage" and said the hotel had "a number of protective measures in place" to identify problem gamblers.
Casey Council feared any rise in the number of pokies at the hotel would cause more gamblers from Cranbourne to visit the pub.
Annual expenditure at the Langwarrin Hotel is expected to rise by $465,879 after the 10 pokies machines are in place, according to figures provided to the VCGLR.
The hotel advised the commission it would make annual contributions of at least $10,000 to Theodora House, a food bank charity in Langwarrin, in addition to $80,000 in contributions already made to community organisations throughout Frankston.
When asked whether improvements to a children's play area should be a reason to grant a pokies licence or licence for additional pokies the office of Labor state government Gaming and Liquor Regulation Minister Jane Garrett noted "this was a decision made by the independent regulator".
Media adviser Holly Little said a statement should be attributed to a government spokesperson.
"There is strong legislation in place to clearly separate gaming areas from other areas in facilities used by families.
"Venues are regularly inspected by the VCGLR to ensure they are complying with these standards."
Frankston punters lost $62 million on the pokies in 2014-15 including $7,604,420 at the Langwarrin Hotel coined in by its existing 52 machines.
In making its decision to grant the pub's request for the extra pokies the VCGLR noted Frankston is subject to a municipal limit of 954 EGMs and there are 591 existing machines in the area.
The Langwarrin Hotel's owners face a final hurdle before the 10 additional pokies can be installed in its gaming area. Frankston councillors unanimously rejected its planning permit application for the extra machines at a public council meeting last month.
"This is where lonely people go and it's just enticing for more money to be wasted for families," Cr Suzette Tayler said.
"Children are missing out, children are going hungry.
"There are people who enjoy going out there for a flutter, but there are more people now who are really addicted to gaming machines and I think that really makes the family suffer."
The Langwarrin Hotel can appeal against council's decision at the Victorian Civil and Administrative Tribunal (VCAT). Mr Beretta did not return calls from The Times.
Previously he said he did not wish to discuss the venue's application for more pokies.