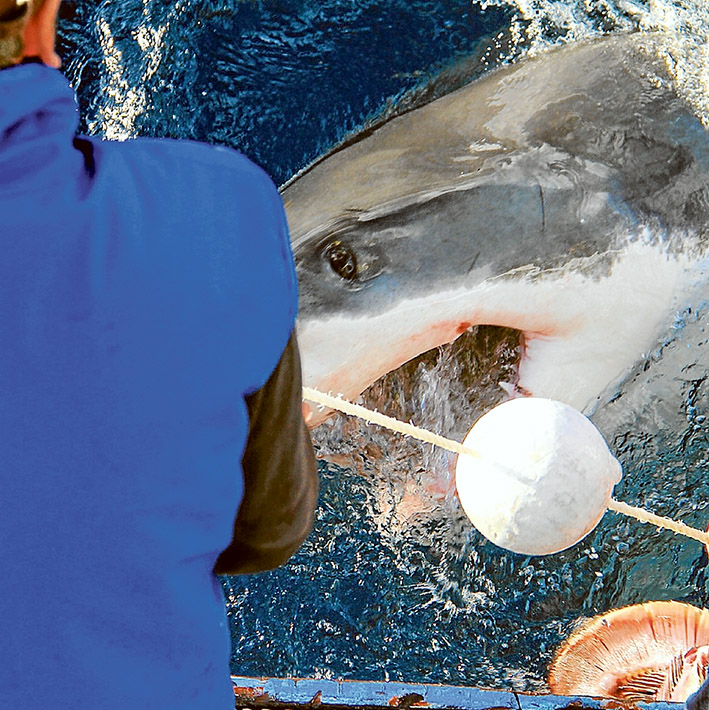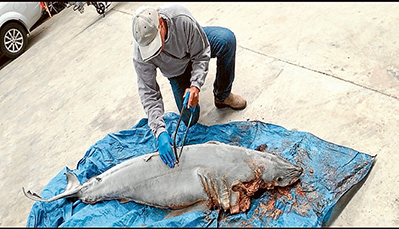 A KEEN surfer, Kent Stannard has a fascination with sharks.
He never misses a news report on the latest shark attack and is always trying to discover the circumstances surrounding the incident.
When a series of attacks near Ballina in northern NSW caused widespread concern last year he was on the spot.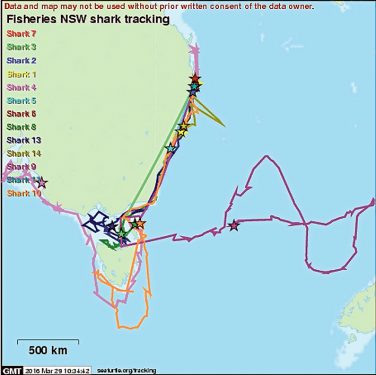 Stannard predicts a similar situation this year with one surfer at Newcastle already being badly mauled.
Stannard is the head of Tag for Life, a non-for-profit organisation investigating shark behaviour, particularly that of great whites.
Alongside Tag for Life is Whitetag, a clothing supply company that donates profits to the ongoing shark study.
Stannard, of Blairgowrie, runs a Facebook site "dedicated purely to the sharks" and the electronic tracks being monitored by Tag For Life.
The site has regular updates and at times provides running commentary on movements of a particular shark or shark events and attacks.
The Tag For Life organisation works with the CSIRO and NSW Fisheries in placing electronic tags on sharks that transmit information about the predator.
Once collated data enables scientists to effectively map the sharks' movements and correlate this information with water temperatures, movements of fish and animals hunted by sharks and if their journey is random or repeated.
Stannard says five of 14 sharks tagged in the wake of attacks at Byron Bay and Ballina travelled south to Bass Strait, with one passing ocean beaches off the Mornington Peninsula and Phillip Island.
Another shark circumnavigated Tasmania before moving to waters off Kangaroo Island in South Australia.
The one that came past the peninsula was then tracked to south west of Flinders Island.
Stannard discounted reports of a shark being spotted off Rye as "a hoax. I spoke to the brother of the person who posted on the shark alerts pages. He did it to keep people out of the surf."
Anecdotal evidence is also added to the store of knowledge collected from tagged sharks.
"A pilot and commercial fisher once told me that when flying he saw more white sharks close to shore when water temperatures were around 16 degrees, which is near to where we are in central Bass Strait at the minute while the warmer east Australian current still remains in the far east of the state," Stannard said, adding how "interesting" it would be to see where a particular shark in Bass Strait would go next.
With no lack of public interest in sharks Stannard is about to launch a crowdfunding exercise to raise $40,000 for "a funky old school caravan" to "extend research findings and details about sharks directly to the public".
Stannard says the CSIRO and NSW Fisheries are behind the project and see him as "the bridge" between themselves and the public.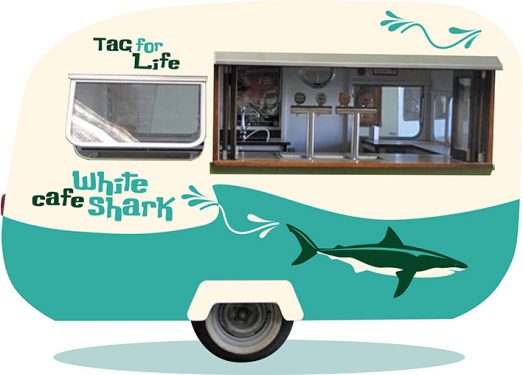 "The crowdfunder [on the Pozzible website] will be to purchase the van which we plan to use on the coast as well at schools and events. It will be kitted out with storyboards, TV monitor for videos and be selling products to support science research and education," he said.
"I plan to train volunteers and then hopefully employ them as educators as well as to work out of the van.
"It's our opportunity to present and control messaging which until now has been reliant on mainstream media which constantly creates hype and hysteria. We aim to take the caravan to schools for marine education plus festivals and events."
Stannard said mainly juvenile sharks would be tagged off Ballina this year, "we're just waiting to see if shark numbers show up there again similar to last year. I suspect they will".
"We're also planning to tag adult pregnant female sharks from SA mid-year as we are trying to locate the western nursery somewhere in the Great Australian Bight."
The program Stannard is connected with has tagged more than 100 sharks with acoustic and 70 with satellite tracking devices which, when added to those tagged by CSIRO and state agencies brings the total of tagged white sharks to "well over" 500.
"From the last tagging program off Ballina, three dropped off the radar early on then five transmitted for a period before they dropped off and now we have six still transmitting, three on a regular basis," Stannard said.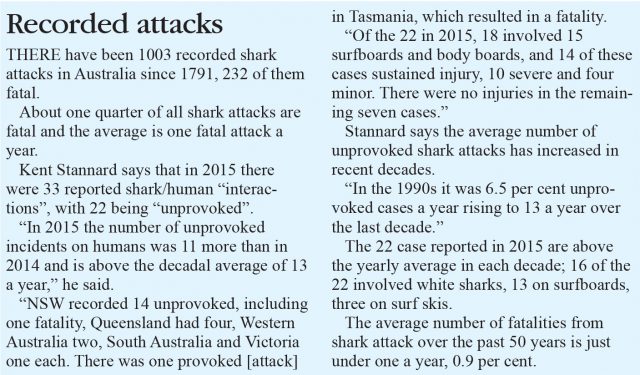 He said the satellite tags could transmit for up to 18 months – "long enough to identify movement patterns and pathways" – while pop-off archival tags lasted up to 12 months – "long enough to identify where adults sharks move as well as depths they dive, temperature of the animal".
"Internal acoustic tags are designed to last for up to 10 years and are valuable to establish an animals behaviour over that time."
Stannard said while sharks had been tracked to Rockhampton and the Exmouth Gulf, with many returning to where they were tagged.
He refers to sharks having "underwater highways" and nursery areas.
"It never ceases to amaze me how these animals can relocate underwater pathways they used previously.
"These habitats are generally important to other species as well, so where sharks are located, species important to their diet are usually not far away, such as salmon, snapper and tuna.
"We've determined they are not permanent residents, only seasonal visitors. "That said, they tend to remember areas that have been good to them and it's fair to say a shark that turns up at Seal Rocks [off Phillip Island] has probably done so for a number of seasons based on successful hunting techniques.
"They have different hunting methods for different food sources. Staying on the bottom for fish and rays while operating in the upper water column using their eyesight to hunt seals."
Stannard said sharks have been monitored diving "beyond 1200 metres, particularly when crossing ocean basins, such as between Australia to New Zealand".
He says the accumulated information about sharks will help governments "develop protocols to minimise the risks they expose to humans and humans to them".
"Risks such as overfishing are critical to sharks and the importance of inner coastal waters to them for nurseries," Stannard said.
"Tagging also helps determine shark behaviour, why and where they will cluster, for how long, when they arrive and when they leave. This enables shark mitigation protocols to be put in place.
"My role is to help scientists find the truth and Tag for Life to function as the delivery mechanism, bridging the gap between scientist and the public. I like to describe myself as a marine educator.
"Hopefully, the information I provide helps the welfare of the shark and, at the same time, enables ocean users to make better informed decisions before entering."
First published in the Chelsea Mordialloc Mentone News – 20 April 2016