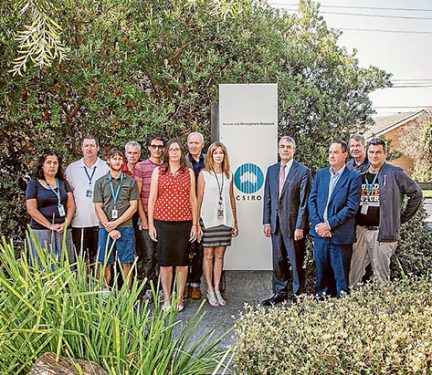 A NEW Climate Science Centre in Hobart announced by the CSIRO this week has put the future of the science body's Aspendale laboratories in doubt amid accusations the decision to favour Tasmania over Victoria is "a political fix to protect marginal seats".
Liberal Industry, Innovation and Science Minister Christopher Pyne welcomed the CSIRO's "decision and announcement"  on Tuesday to base a Climate Science Centre in Tasmania.
"As the CEO of CSIRO Dr Larry Marshall has said, it is critical that the CSIRO continue to work in this space, and this announcement today fulfils that commitment," Mr Pyne said in a statement.
"Throughout its history the CSIRO has independently made decisions about how best to direct its efforts and resources to meet Australia's needs – this operational decision is another example of this."
Federal Isaacs Labor MP Mark Dreyfus says the CSIRO Marine and Atmospheric Research Centre in Aspendale, where climate research is conducted, is likely to be "gutted" despite a reduction in the number of anticipated job losses across the CSIRO nationally.
"After months of campaigning by Labor for Mr Turnbull to reverse these cuts to CSIRO jobs, he has barely reduced the job losses from 350 to 275. Of the 75 climate researchers now expected to lose their jobs, many of these will be from the CSIRO Marine and Atmospheric Research Centre in Aspendale," Mr Dreyfus said.
"This is too little, too late, a last ditch attempt to save the Liberals' political skin in Tasmania, with next to nothing for Aspendale or Melbourne's south east."
The federal government says the CSIRO is an independent statutory agency governed by a board of directors and as such makes its own operational decisions on where best to allocate funding for scientific research.
However, Liberal Environmental Minister Greg Hunt told the ABC on Tuesday he and Mr Pyne had intervened to try to limit CSIRO job losses.
"Yes, we did help broker an outcome here … we were very involved and each of us played our role," he told ABC radio.
A spokeswoman for Mr Hunt said the Environment Minister had discussed jobs at the Aspendale laboratories behind the scenes.
"While CSIRO is an independent organisation and has made its own decisions, Minister Hunt has argued strongly for the continuation of scientific support and staff at Aspendale," Mr Hunt's electorate communications officer Samantha Robin said.
"This has resulted in CSIRO amending its original proposals after Minister Hunt worked with Australia's Chief Scientist Dr Alan Finkel to ensure strong support for the science community."
Mr Dreyfus called on Mr Hunt and Mr Pyne to intervene again on CSIRO operational matters alongside Prime Minister Malcolm Turnbull.
"I call on Mr Turnbull and Environment Minister Greg Hunt to guarantee this is not a backhanded way to close the Aspendale site and sell off the valuable land to a real estate developer. That is not what the people of Isaacs want."
"It is not too late to stop these cuts. Science Minister Christopher Pyne can direct CSIRO management to halt its plans entirely. But it is clear this government has its priorities all wrong, and politics will likely continue to trump science."
Australia's Chief Scientist Dr Alan Finkel backed the establishment of a climate science research hub, to be staffed by 40 scientists and researchers, in Hobart.
"The creation of a national climate research centre is the right move for Australia and I congratulate all the parties involved," Dr Finkel said.
"This announcement recognises the importance of climate research, in particular modelling and observations, to our science and our community.
"The new centre is a stable building block in this critical field, which will both inform national policy and meet our international obligations.
"Australia has a central role to play in understanding the climate of the Southern Hemisphere."
First published in the Chelsea Mordialloc Mentone News – 27 April 2016
This article was amended on 3 May 2016 to include comments confirming Environment Minister Greg Hunt discussed the continuation of CSIRO scientific staff at Aspendale. The comments were received after deadline for the print edition dated 27 April.