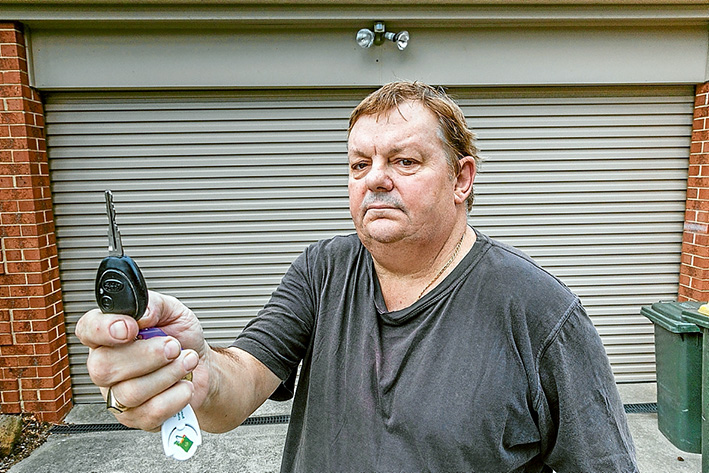 "IT was a stupid thing to do", admittedly, but easily done: the ramifications, though, are irritating, far-reaching – and costly.
Langwarrin resident Steve Haddow made the mistake of leaving the keys in his car and his garage door open, Wednesday night 20 April, and unwittingly became a target for thieves who are stealing an increasing number of cars from driveways and garages in the suburb.
And, while the ease of the thefts is driving police mad, they are even more frustrated that residents are not heeding their message: Lock your car and your house overnight and hide your keys to prevent thefts.
In the Frankston police area, gangs regularly patrol streets at night to see if cars have been left unlocked, or testing house doors and windows looking for easy entry so they can steal keys – and then cars – for use in other crimes, such as petrol drive offs, getaway cars, ram raids and assaults.
Mr Haddow, of Gumnut Drive, remembers driving to Langwarrin Plaza and returning with "an armful of groceries", before driving into the garage and taking the shopping inside – forgetting to remove the keys from the ignition.
Later that evening he asked a friend if the garage door was closed and was told "No, it's open". 
"I went out and pressed the remote to shut the door and that's where the story becomes confusing," he admitted.
"I got up at 3.30am as usual to go to work and pressed the remote again and saw that the door was actually closing – not opening, so there is some confusion as to whether it was open or closed overnight."
The car – a Holden Lumina 2001 – was gone and, with it, the car keys, house keys, some tools and the spare garage remote control.
As a result the security of Mr Haddow's world is gone and the costs and inconvenience are mounting.
"I've had to replace all the door locks, get a new remote control as well as hunt for a new car, which I am doing right now," he said Thursday.
"I know it sounds really stupid that I didn't go and actually check that the garage door was shut or that I had the keys with me inside."
The single dad with four children, aged 23, 21, 18 and 16, said his wage never allowed for the luxury of car insurance and now he's on his own.
A check with CityLink showed the car had been used three times since being stolen and this could go on indefinitely.
"It's a straight out inconvenience," said Mr Haddow, who ran the Pearcedale bakery for 10 years. "It's something that could so easily have been addressed at the time."
Detective Leading Senior Constable Craig Goudy, of Frankston CIU, described Langwarrin as "a real target area" for car thieves.
"From 20-27 April there were 48 thefts from motor vehicles – most left unlocked – in the Frankston police district and half of these were in Langwarrin," he said.
"Of the 15 cars stolen, six had keys inside and most of the others involved thieves walking into an unlocked house and stealing car keys."
Nearby, in the early hours of Sunday 24 April, thieves robbed another unlocked vehicle in Gumnut Dr, Langwarrin, stealing two tool bags, as well as the victim's wallet containing various bank cards.
"The offenders have then had a field day at 24-hour servos, including BP Langwarrin, Coles Express as well as a Hungry Jacks, racking up over $550 in transactions," Detective Goudy said.
"This is just another typical example of what is so frustrating when vehicles are left unlocked with valuables left inside.
"If people would only lock their cars and houses overnight the rate of thefts would drop dramatically. Thieves might break a window to gain entry, but then they would possibly leave behind evidence that police could follow up later."