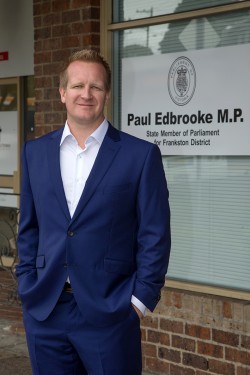 THE allocation of $50 million for the redevelopment of the Frankston train station precinct was the headline act for Frankston in this year's state budget released last week.
The cash splash is confirmation of Labor's pre-election promise before the 2014 state election to revamp the station and its surrounds into "state-of-the-art transport hub" (''Fast track' for station upgrade', The Times 17/11/14).
Frankston Labor MP Paul Edbrooke said the government is keen to push ahead with the station redevelopment to "get it done" despite some questioning the pre-election pledge when $13.1 million for the project was allocated in last year's state budget.
"Some people said they'd believe it when they see it and it's time to start believing," Mr Edbrooke said. "This project will transform the station and its surrounds, making it a safe, modern hub for transport, TAFE and shopping."
"Frankston has been dominated by naysayers for years and we're getting on with it."
McClelland Secondary College was also a big local winner from this year's state budget with $5.8 million announced to build modern buildings to replace ageing facilities.
Carrum Labor MP Sonya Kilkenny hailed the confirmation of $154.5 million in funding for the Thompsons Rd duplication project as a boon for Frankston.
"I am thrilled that we are going to deliver this vital project for the local community," Ms Kilkenny said.
"During peak periods, motorists will save over 10 minutes in travel time along Thompsons Rd."
The Carrum Downs Recreation Reserve Pavilion will also be overhauled thanks to $1.05 million announced in this year's budget and $75,000 will go towards a community cafe at Carrum Downs Community Cafe.
Liberal opposition spokesman for local government David Davis accused the Labor state government of "short-changing" councils on infrastructure funding in the long run due to the government's rate capping policy.
"Despite being awash with massive cash after huge state government tax rises, after Daniel Andrews' savage cut to grants and transfers to Local Government last year, Victorian councils will still receive $14.2 million less this year than under the last budget of the former Coalition state government," Mr Davis said in a statement.
"Councils are suffering the double whammy of an ongoing real cut to state government grants and transfers and the reality of a 2.5 per cent rate cap."