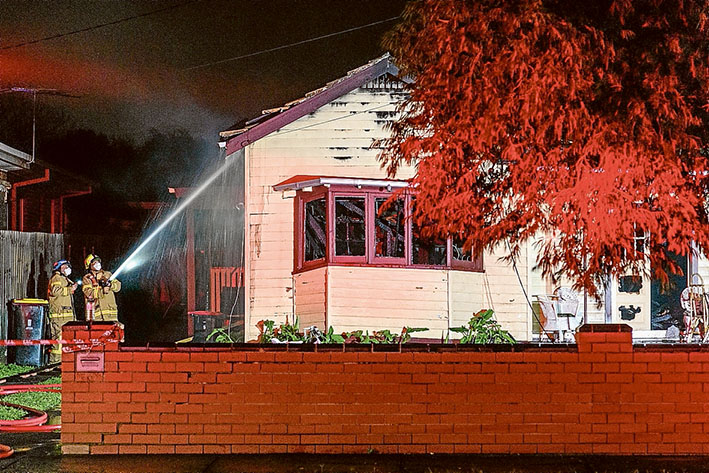 AN electrical fault, possibly in a studio at the rear, caused a fire which gutted a Mordialloc house, Wednesday 27 April.
The rented weatherboard in Powlett St was fully alight when fire crews arrived at 10.20pm.
Occupant Libby Sunshine, 20, told police she was in her room at the front of the house when an alarm alerted her to smoke in the hallway near the kitchen.
Opening her door she could see the house was full of smoke with flames spreading into the kitchen area.
She "grabbed her cat and handbag and fled the house", Mordialloc police said later.
Fire quickly spread through the kitchen and roof before fully engulfing the 1930s Californian bungalow.
Mordialloc MFB and neighbouring CFA brigades attended and prevented flames reaching neighbouring houses. The MFB kept a fire truck on site overnight to monitor flare ups.
The fire was heart breaking for another occupant, artist Sam Bryant, 36, who lost works intended for an upcoming exhibition.
The 60 paintings, visual diaries and video tapes for animation compiled over 20 years were all lost. "I don't know what I will do now," he said.
Friends and neighbours had been "exceptional" in the wake of the disaster: "A friend is trying to organise us another house," he said. "Hopefully we will find something."
Fire investigators later established the fire was caused by a faulty electrical fitting.                     
First published in the Chelsea Mordialloc Mentone News – 4 May 2016