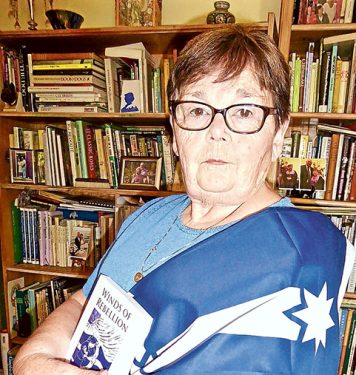 "It may be called the finest thing in Australasian history. It was a revolution – small in size but great politically; it was a strike for liberty, a struggle for principle, a stand against injustice and oppression. … It is another instance of a victory won by a lost battle"
Mark Twain, Following the Equator (1897)
WHEN Fran Henke wanted someone to launch her latest historical novel she had to look no further than at the words she had written.
Kerry McNarn, district nurse, wedding celebrant whose name and personality form the basis for a "character" used in two of Henke's books readily agreed to step from the pages of Winds of Rebellion for its public release.
In a self-reflective moment Henke questions the professionalism of using the names and personalities of friends in a work of fiction and then supplies the answer: "Maybe, but enormous fun yes."
An artist, journalist, author and accomplished photographer, Henke is well known for her long running Council Watcher column with the former Independent News Group.
Her latest book Winds of Rebellion – the second of the A Fair Wind trilogy – is about how far Australians can be pushed before they say enough.
The first book of the trilogy, Other Side of the Wind, was published for Henke's 70th birthday in 2013.
This second book is based on events and players at the time of the Eureka rebellion on the Ballarat goldfields.
"It carries some of the characters from the first book into the tense months of 1854, when ordinary people became caught up in extraordinary events," Henke says.
At that time, she says, miners on the Ballarat and Bendigo goldfields were willing to pay for a licence – "also known as a tax" – but wanted a say in how the goldfields were run. They held meetings and organised deputations to authorities.
"The government, paranoid about the number of so called foreigners on the goldfields, had a fortified camp for soldiers and troopers. So miners built a ramshackle stockade of shaft timbers," Henke says. "Men were asleep there on Sunday 3 December 1854 when 276 soldiers and police arrived, shooting and slashing, burning nearby tents with families inside.
"An estimated 60 people died either that morning or later – of those, six were troopers. So it wasn't a rebellion, more like a massacre."
Henke's tale is from the point of view of people in Geelong, "the rest, recreation and restocking point for the Ballarat goldfields".
She feels drawn to Ballarat as it was the birthplace of her mother and her maternal grandfather was a miner, who allegedly lost his leg saving a cage full of miners at Kalgoolie.
"I met him once, with his wooden leg, suggesting to him that he had a leg like mine, which is in a caliper," Henke, a polio survivour, says.
"While the first book The Other Side of the Wind was set in Geelong because of the intriguing story told me by a friend about her ancestors landing there – we had family members there too in the wool business.
"When writing both books, I was conscious that my mum, who became dependent on talking books in later years, was hearing material not to her conservative taste. So I wanted my fiction to be challenging and interesting, yet not to offend."
But starting Rebellion and finishing it had its own challenges.
After eight chapters "serious family matters" saw the book set aside and Henke being "actually afraid to start writing again", uncertain of being able to again become immersed in the past.
Rejuvenation came after finishing and publishing In Yer Face The Bald Archy Prize, a collaboration with Peter Batey in July last year.
"I knew I wanted to keep writing. Period details and history returned; subsequent chapters went down really easily – except for the events of 3 December. Writing about senseless death of people and animals doesn't come easy."
Henke's editor Mike Hast [also a journalist and now a sometime contributor the The Times] suggested Henke illustrate the text with linocuts, something they had already tried with the cover of the first book.
"I majored in printmaking at Chisholm six years ago. And I enjoyed making small images of native flowers while he edited – asking endless questions, checking my research as only Mike can.
"Again we had the argument about the actual date of Victoria's separation, the date it was proclaimed by the Queen, 1850, or the date it was enacted, 1851."
Henke, secretary of the Australian Taxation Reform Group, is involved in making submissions to the Henry Review and a White Paper.
"I didn't really want to pitch this book as being about an unfair tax, yet of course it is. Who would want to read a novel about tax?" she says.
"But it's more than that of course. It's about how this generation came to enjoy the right to vote, to have a say, to protest. This story is particularly special – dedicated to my husband Ian who has paid dearly for his right to protest, to help people who felt helpless against the system. I put the dedication at the end because I didn't want readers to think I had an axe to grind."
Henke has dedicated Rebellion to her husband Ian Henke for his "courage, perseverance and dignity in the face of government tyranny". Ian Henke was jailed in 2011for taking a stance against the current tax regime.
Once the book was underway Henke realised her original plan for a trilogy was still possible and has applied for a State Library fellowship to research the third, "taking the story up to Federation, another family passion".
"The extraordinary stories of the Eureka rebellion and Federation deserve to be better known," she says.
"After 50 years of journalism I reckon I can make what might seem heavy yarns interesting. That was my job: to take complex issues of government, parliament, council, science, the arts, make them even entertaining."
In recent months, after 25 years of advocating to state and federal government about the needs of Australia's estimated 400,000 polio survivors (the country's largest physical disability group) she resigned from the Polio Reference Group and the Board of Polio Australia.
Her aim was to concentrate on writing and printmaking ("having just been given a splendid etching press") but the death of then Mornington Peninsula Post-Polio Support Group chairman Dennis Lloyd has seen her take on some of his work.
A further block to Henke's writing and printmaking comes each year with organising the Mornington Peninsula's Winter Blanket Appeal, coordinating knitters to make blankets and clothing for needy families through Southern Peninsula Food for All. This year the appeal is seeking beanies, scarves, mittens and children's jumpers to about age 10.
"Like many so-called retired people I am busy, but finally and in between, concentrating on the dream of making books and pictures," Henke says.
"Polio took away some potential in life, but gave me much more – especially a love of words, music and images. It also showed me the need for each of us to do whatever we can to help each other and to speak up about injustice – whatever the cost."
The public launch of Winds of Rebellion is 2pm Sunday 15 May at Oak Hill Gallery, Mornington-Tyabb Rd, Mornington.
Fran Henke's books ($25 plus $8 postage) are available from Flying Pony Press, flyingponypress@gmail.com