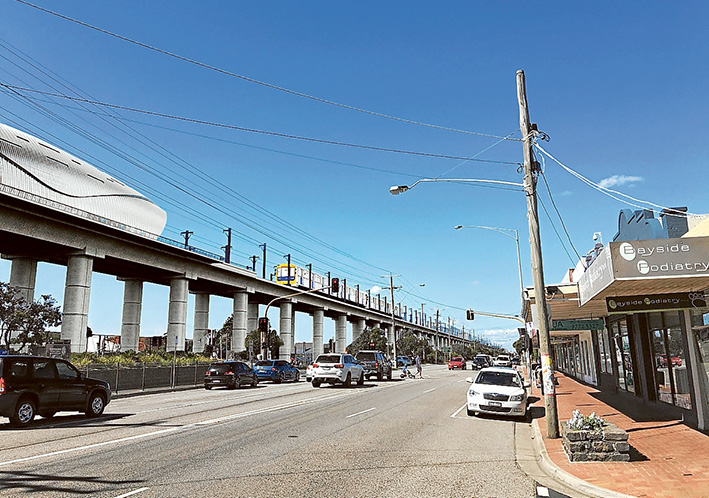 ELEVATED rail "will reduce noise" from passing trains for anyone living near a train line according to the state government but anti-sky rail campaigners opposed to elevated rail along the Frankston line say noise control is not the only factor that will affect neighbouring residents' quality of life.
Labor Public Transport Minister Jacinta Allan last week released a Level Crossing Removal Authority (LXRA) preliminary noise report for the Cranbourne to Pakenham level crossing removals.
"This report confirms the elevated line will reduce train noise for local residents day and night," Ms Allan said in a statement.
The report was compiled by noise and vibration experts WSP Parsons Brinckerhoff, a company in a corporate alliance of businesses awarded contracts to remove the nine level crossings between Caulfield and Dandenong.
Lend Lease, CPB Contractors, Aurecon and Metro Trains are the other companies in the alliance tasked with separating rail from road along the Dandenong line.
Simon Johnson, founder of noskyrail.com.au, says he fears the WSP Parsons Brinckerhoff noise report is an indication of "what is coming down the line" for sections of the Frankston line.
"They seem to be the experts in noise control but my understanding is that document was done at least in part by the consortium that won the bid," Mr Johnson said.
He said the report did not look at potential pollution problems caused by diesel fumes from trains running "two or three storeys in the air".
Mr Johnson says the government should "come clean" with a full Environment Effects Statement about any environmental impacts of elevated rail.
The Planning Minister would have oversight of elevated rail projects and the community could voice its concerns if a full EES was required.
Ms Allan has said every level crossing along the Frankston line to be removed will be assessed on an individual basis to determine ways to separate road from rail at intersections.
"The approach that's been taken on this corridor [Dandenong] is not necessarily the outcome that will be taken on the Frankston corridor and I think it's wrong to assume that it would be," she said last weekend.
The LXRA, a Department of Transport body, is overseeing community consultation on level crossing removals before options are released next month.
A final decision on how level crossings will be removed will be made at the end of this year with construction due to begin in 2018.
Acting Auditor-General Peter Frost said last week there is a worrying lack of transparency around major projects such as the planned removal of 50 level crossings across Victoria at an estimated cost of $5-6 billion.
Mr Frost noted in the Managing and Reporting on the Performance and Cost of Capital Projects Report tabled in Parliament last week that level crossings are being removed before an overall business case, due to be completed "in mid-2016", has been completed.
"Unexpected cost blowouts can significantly impact the state's finances and affect the government's ability to deliver its wider policy agenda," Mr Frost said.
"Unforeseen delays also mean the community has to wait longer for promised benefits, and unreliable benefit estimates risk distorting government's decision making."
Ms Allan says the government is "getting it done after years of excuses".
"These level crossings are some of our worst. They clog roads, stop us running more trains and put lives at risk every single day," she said.