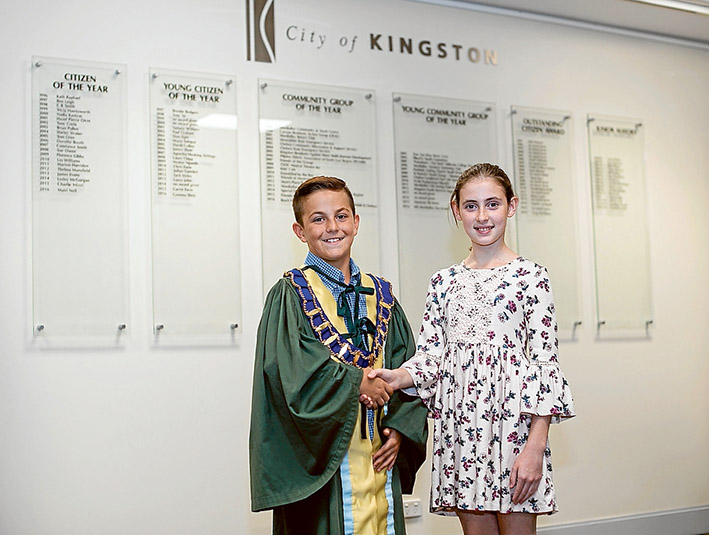 PUPILS from six primary schools last week found out what it's like to be mayor for a day.
They spent time with Kingston mayor Cr Tamsin Bearsley learning about the role of council in the community.
Aspendale Gardens, Chelsea Heights, Parktone, St Mark's, Westall Primary, and Mentone Girls' Grammar pupils spent time learning about bike and pedestrian safety, particularly around schools.
They also learned about the school crossing supervisor program, how playgrounds are designed and built and how council meetings work with a focus on the speaker system and live internet streaming of meetings.
The pupils also met officer Beau, Kingston Council's resident dog, to learn about responsible pet ownership.
Cr Bearsley, a primary school specialist teacher, said the 'Day with the Mayor' pilot project is a great way for young people to learn about different levels of government.
"Your local council provides more than 100 different services week in, week out," she said.
"Take a look around and you'll see dozens of council services, including libraries, immunisations for babies, keeping sports grounds in top condition, Kingston Arts Centre, major drainage projects to minimise flooding, senior citizen clubs, kindergartens, graffiti removal, tree plantings in parks and along our foreshore, meals-on-wheels and running local swimming pools – just to name a few.
"We're looking forward to a great day when pupils can find out more about how their community works and how they can play a part in ensuring Kingston is a safe, fun space for local young people."
Kingswood Primary School pupil Isaac Madafferi was officially elected Kingston's new Junior Mayor last month.
Each year a Grade 6 pupil is elected as the city's junior mayor. Schools nominate a pupil who makes a two-minute speech, and then the pupils vote for their favourite presentation.
Runner up was Aspendale Gardens Primary pupil Meesha Salaria, with Parktone Primary's Mia Byrne winning the Encouragement Award and St Marks Primary's Louisa DíAmbra winning the Young Ambassador Award.
Cr Bearsley said the program – sponsored by the Chelsea Rotary Club – had been running for 50 years.
The junior mayor, who receives junior mayoral robes, chains and $200 for their school from Chelsea Rotary Club, helps the mayor at a range of official events.
Issac replaces outgoing junior mayor Jasmine Warber, of St John Vianney's Primary School.
The mayor thanked Jasmine for being an outstanding junior mayor over the past 12 months.
"Jasmine has been an asset to the community and an absolute pleasure to work with and I thank her for her contribution and commitment to Kingston."
First published in the Chelsea Mordialloc Mentone News – 18 May 2016