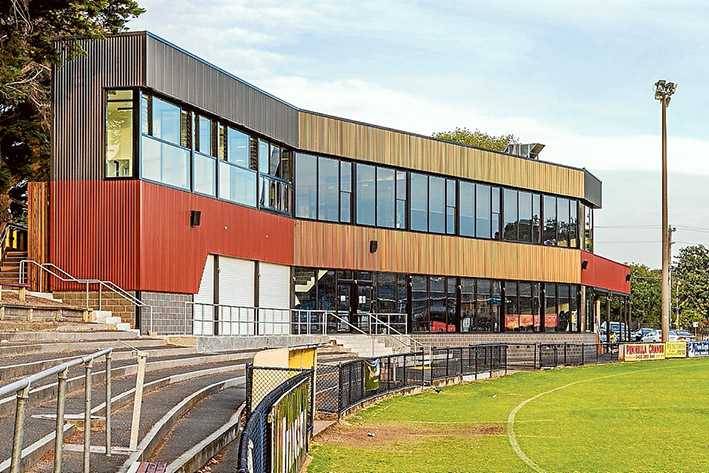 IT'S game over for pokies players at the Frankston Dolphins Football Club after the club decided to switch off the gaming machines at its Frankston Park function centre.
Dolphins general manager Brett Angwin confirmed board members at the VFL club agreed last week to immediately get rid of all 27 electronic gaming machines at the footy club's Frankston base.
"It's about healthy lifestyles and engaging families in a sporting environment and we didn't think the pokies were conducive to that so that was the decision made unanimously by the board on Tuesday night."
The machines at the function centre were switched off at midnight on Tuesday (17 May) and await pick up by Tabcorp Gaming Solutions.
Mr Angwin said the Dolphins had consulted with Frankston Council and AFL Victoria over several months about getting out of the pokies business.
"The decision is financially based but it's also based on the direction the football club wants to go. We want to focus on our key product and that key product is we're a football club.
"Council, AFL Victoria and the AFL in general have been extremely supportive of our decision."
He said the club had pokies for more than a decade.
Victorian Commission for Gambling and Liquor Regulation figures show punters lost $508,139 playing pokies at Frankston Football Club in the six months from July to December last year and $1,062,225 over 12 months in the previous 2014-15 financial year.
Mr Angwin said community feedback on pokies was taken into account when deciding to axe the pokies.
"Quite honestly, they're just becoming the social pariah of the community," he said.
Frankston mayor Cr James Dooley said the football club had been talking to council for about six months about removing pokies from the Frankston Park function centre, a $4.1 million venue built last year.
"We are very pleased the football club shares our view that gaming machines are harmful to the community," the mayor said.
"They have chosen to relinquish their machines rather than trying to sell them to another venue, a decision which should be applauded."
The football club is carrying about $1 million in debt primarily used to partially finance the new function centre and stadium ('Dolphins: Don't panic, club not in financial strife', The Times 14/9/15).
The Dolphins' move to pull the plug on its pokies comes as anti-pokies groups, led by the Alliance for Gambling Reform headed by Tim Costello, pressure AFL clubs to stop coining in pokies revenue at club-owned premises.
Alliance spokesman Rohan Wenn praised the Frankston club's community-minded decision.
"The Dolphins are swimming in the right direction on this one," he said.
"It's quite clear clubs like the Dolphins can see the damage poker machines are doing to their own supporters.
Mr Wenn said pokies are a "misleading, deceptive and addictive product" costing communities millions of dollars each year.
"You can't expect families to send their kids off to play for a club that is taking food off the tables of those families through secret and shameless manipulation."
Pokies losses average $62 million in the Frankston area each year according to VCGLR figures.
"We will always assess any application for new gaming machines on its merits, as we are required by law, however electronic gaming machine losses can cause catastrophic consequences in the lives of vulnerable people; a view that is supported by research," Cr Dooley said.
Frankston is subject to a municipal limit of 954 EGMs and there were 591 existing machines in the area before the Dolphins relinquished the club's licence for 27 machines.