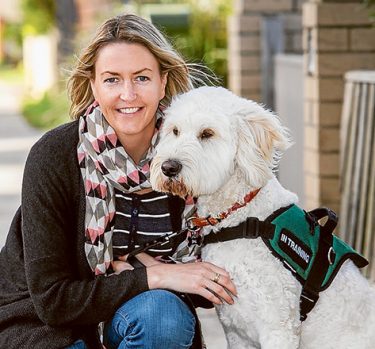 JENSEN has his work ahead of him.
The 18-month-old poodle-golden retriever cross – or "Groodle" – is about to embark on his life's work: becoming a companion dog for a child suffering with autism.
It's no easy task but, thanks to families like the Bunnys, of Seaford, Jensen has the best possible grounding for a life of service.
"He's our second dog, with the first – Zola – going on to become a companion dog for a child suffering with Chops syndrome, which affects only one in a billion children," mother Carly said.
This disorder involves multiple abnormalities present from birth, including cognitive impairment, coarse facial features, heart defects, obesity, lung problems, short stature, and skeletal abnormalities.
He was also a groodle – a breed known to be non-aggressive and friendly, but protective and intelligent.
Now, Jensen looks forward to similar responsibilities. He is undertaking several months' formal training before a possible two-week placement with the family of a child with autism. Then, if successful, he will be placed in a one-on-one placement with a child for a month, initially, then for life if things work out.
The long training and placement process can take 18 months-two years but everything has to gel because the consequences are so important.
"We were reading about a local family raising a dog and doing fundraising," Mrs Bunny said.
"I had never heard of an autism dog, but they said they were looking for puppy raisers for Dogs for Kids with Disabilities and we decided to give it a go.
"We are going to miss Jensen – especially the children Finley, 5, and Orla, 3 – as he has become one of the family."
The not-for-profit organisation Dogs for Kids with Disabilities is based in Seaford.
Their dogs are trained to be loving, loyal and to know how to prevent bolting, decrease self-harm behaviours and reduce meltdowns in children with autism. They help children sleep better, reduce anxiety and build communication.
Dogs for Kids with Disabilities says it takes 18 months to raise and train a pup so that it is ready to be matched with their child.
Members of the public are invited to sponsor or donate to a DKD dog in training to help them fund the journey. Donations of $2 and over are tax deductible.
The body does not receive any government funding. Children and their families rely on the generosity of others to help cover the $25,000 it costs to raise and train a full assistance dog.
Details: call 9786 2909.
First published in the Chelsea Mordialloc Mentone News – 25 May 2016