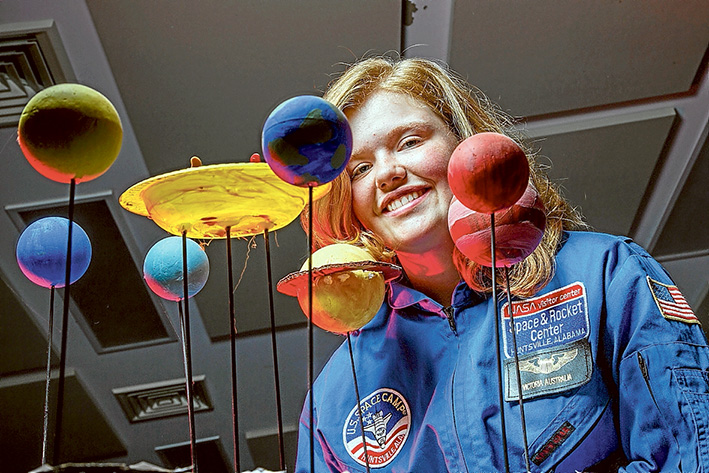 YOUNG schoolgirl Emily Pleece may be visually impaired but she has a big vision.
In September, the Aspendale Gardens resident will blast off to US southern state Alabama for a specialist space camp for blind and vision impaired students just like herself.
Now, she is busy raising funds to get her dreams off the ground.
Emily, 14, has been vision impaired since birth, after suffering a stroke in utero, and she also presents on the autism spectrum.
The Parkdale Secondary College student hopes that Space Camp will bring her confidence, independence and a global network of friends.
Space Camp is held at the Space & Rocket Centre for one week each year. It is dedicated to blind and vision impaired students from America and around the world.
Emily, who is in Year 9, found out about Space Camp through the Support Skills program which she attends at the Statewide Vision Resource Centre twice a term. Several students from Support Skills are also planning to attend and are on a mission to raise money anyway they can.
Emily's mother, Julianne Vermeend, is excited by what the program will offer.
"It's a phenomenal program. Students learn about space, technology, team work, participate in challenges, complete a mission, develop and grow personally, and have the opportunity to build friendships and support networks all over the world."
Several local students have previously attended the program, with some going on to study astronomy and then pursuing careers in this area.
Emily's ambition might not lean towards science but she has an interest in being a mobility and orientation instructor, or a place in the Education Department that provides services to vision-impaired students.
"Emily loves her time spent at Support Skills, and has shown a desire to help others. Often she is the one getting help, but, at Support Skills, she has shown herself to be very capable and enjoys assisting her classmates," Ms Vermeend said.
"Space Camp will help her to connect with others and inspire her. A past alumni of the camp said 'Just because I can't see the stars, doesn't mean I can't reach for them.' That's such a wonderful attitude to have."
Emily needs to raise about $8000-$9000. She has already raised $3000 through donations from Rotary and Lions clubs and Parkdale Secondary College.
Her family and friends hope to raise the rest of the money needed via market stalls and applying for grants.
Businesses willing to donate financially, or with products suitable for auctions or raffles, can visit Emily's website at emilypspacecampfundraiser2016.jimdo.com or 'Emily P's Space Camp Fundraiser 2016' on Facebook.
First published in the Chelsea Mordialloc Mentone News – 1 June 2016