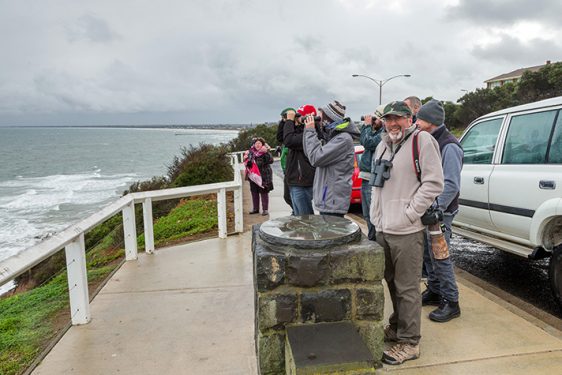 NEWS that a frigate bird has been spotted at Frankston quickly spread among the birdwatching community.
An online post led to a crowd on Olivers Hill, many clutching binoculars or cameras in the hope of catching a glimpse or a photographic record of a bird not recorded as being seen in Port Phillip for at least 100 years.
Wildlife photographer Steve Kuiter heard that the bird with a distinctive "red balloon" throat had been seen about 9am Friday 10 June but was unable to get down there until 3pm.
Undeterred he walked to the base of the cliff and hid among rocks, armed with a 80-400mm zoom lens on his Nikon D810.
Amazingly, the frigate bird hovered nearby, too close at one stage to even fit in the lens.
He waited around until dark to make sure the bird did not roost too close to the ground where it could become prey to foxes and cats
Once satisfied that the stranger from Australia's tropical north was safely tucked away in a pine tree, Kuiter published his full frame shots on the internet, adding to the excitement so much that the birdwatchers were again out in force Saturday morning.
But the wind had changed and that particular frigate had sailed, although reports were again hitting the twitcherverse of another one being spotted near Geelong.
Kuiter said the bird appeared to dive for a fish – probably whitebait – while he was photographing "but it moved its head sideways, preventing me from seeing".
"We're a bit worried he might be hungry because these birds would normally be eating 50 fish an hour," he said.
"He's probably been blown down here by last week's storms."
Last year birdwatchers were all agog when first a tropic bird and then a northern great petrel arrived at Mornington.
The birds were captured and hand fed until fit enough to fly home.
The petrel was released close to where it was found while the tropic bird enjoyed a drive north before being freed in a warmer clime.