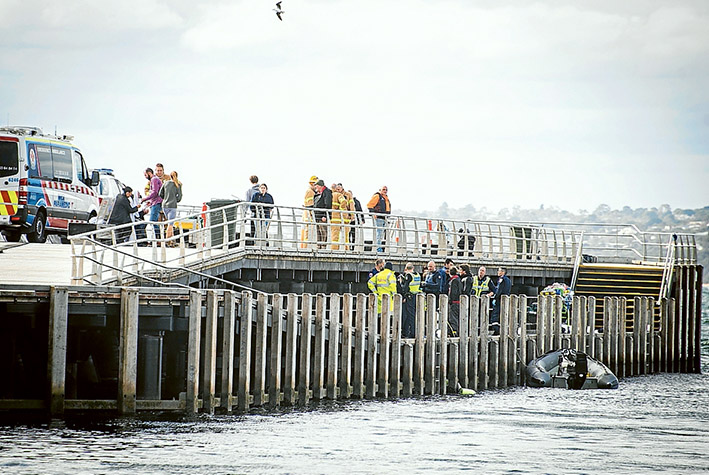 MYSTERY surrounds the deaths of two scuba divers near Mornington pier, Friday, but rough seas and strong winds almost certainly contributed to the tragedy.
Diving instructor Leonie Hanson, 40, who worked for Harbour Dive Australia, Mornington, and her pupil, a 39-year-old man, of Langwarrin, drowned when they got into difficulties around noon.
Witnesses said they heard screams as a desperate Ms Hanson tried to keep her unconscious pupil afloat and lift him onto a ladder on the seaward side of the concrete wall, while being buffeted by large waves.
Nearby restaurateur Roberto De Santis, who ran to help, told Channel 9 news that a frantic Ms Hanson was struggling to hold onto the man and yelling "hold him".
Mr De Santis climbed down the ladder and into the water fully clothed in a desperate rescue attempt. He said the pair had their full diving gear on making them hard to hold on to.
He and other rescuers removed the man's diving gear to push the tank off so they could lift him up while a sinking, and obviously exhausted Ms Hanson, slipped away out of reach.
Mr De Santis said the instructor's sole concern was in saving her pupil.
"She was helping as well … I said 'grab the ladder' because I could see she was getting tired, so I put her on the ladder, held his hand," he said on Channel 9 news.
Witnesses said a boat owner moved in to help as Mr De Santis struggled to help the pair, but Ms Hanson was overwhelmed by exhaustion and had possibly gone into shock when she disappeared.
"I was just saying 'hold on, hold on', and I don't know … I had a rope around my leg … then the fireman told me to let go … she started sinking," he said.
Police, CFA, paramedics at the pier praised the efforts of Mr De Santis and other would-be rescuers.
Sergeant Dennis Ramsay, of Mornington police, said the rough conditions on the outer side of the pier hampered rescue attempts.
"That was the major issue," he said.
"Big waves were hitting them because they were on the rough side and they kept getting pushed into the pier.
"She was struggling to hold onto the man and everyone was attempting to assist; it was just really unfortunate.
"It appears the man was already deceased and there was a lot of work going on to help him and she just slipped away.
"That's what it looks like for now, but we may never know how it occurred."
Sergeant Ramsay said it was puzzling why Ms Hanson's buoyancy vest had not kept her afloat.
Strong north-westerly winds and the big swell made it hard for police search and rescue divers to recover Ms Hanson's body, which was eventually found under the pier hours later.
Police are not treating the deaths as suspicious. They will prepare a report for the coroner.