PENINSULA LEAGUE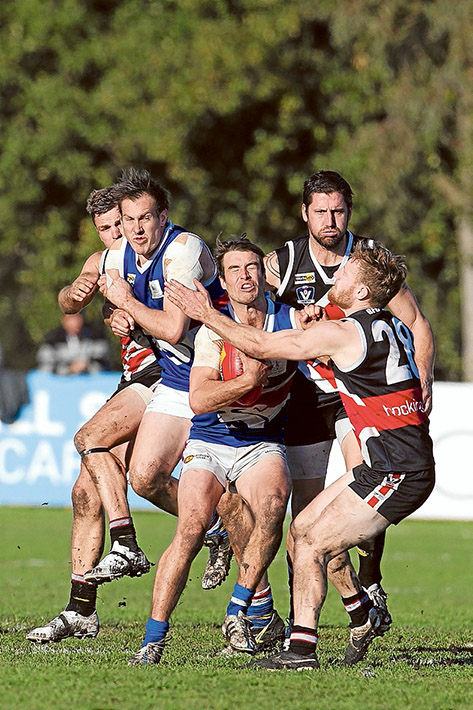 MT ELIZA has breathed some life into the MPNFL Peninsula Division competition with a comprehensive victory against Frankston YCW.
The Redlegs put a stop to the 25-game winning streak of the Stonecats, whose last loss coming into the clash was against Mornington in round seven last season.
After defeating Mt Eliza by almost 100 points at Wooralla Drive just six weeks ago, it appeared that the Stonecats would go through the season undefeated.
Just nine points separated the sides at the major interval before the visitors booted eight goals to two in the second hour to win 14.13 (97) to 7.8 (50).
Frankston YCW went into the match without prime movers including Ryan Santon, Kyle Hutchison, Byron and Anthony Barry and Brenton Credlin, many of whom were representing the VCFL in the Australian championships. Lachy Wallace and David Bodley returned.
Mt Eliza went into the match without star goal kicker Justin Van Unen, who has been asked by Essendon to play out the rest of the season in their reserves with a view of picking him up in the draft.
Mt Eliza coach Troy Shannon said while he supported 'JV' trying to better himself by playing a higher grade of football, he conceded he "wasn't happy" with Essendon.
"I've spoken with Essendon a couple of times and they said they would only require Justin to play a few games to get a look at him," Shannon said.
"Then they pick him this week in a really important game for us, which went against the conversations we'd  had. It just annoys me that they would say one thing and do another.
"But don't get me wrong, if the opportunity allows Justin to achieve his goals of playing at the top level, then  I'm all for that," Shannon said.
James Freeman, who is on Casey's list, was outstanding once again for the Redlegs with six goals, while Tom Freeman was also dominant in his fifth club game for the year and first in the seniors.
Matt Lillie was superb in the ruck against Ash Eames and Jay Neratzoglou was solid down back. In more good news for the Redlegs, Matt Neratzoglou booted a bag in the reserves as he makes his way back from injury.
Craig Nankervis, Tony Lester and Sam Widdowson were the best of the Stonecats.
The win for Mt Eliza elevated them to second place on the ladder after Pines went down to Edithvale-Aspendale.
Mark Meehan was again a star for the Eagles with six goals while Will Flavelle and Timmy Mannix were superb across four quarters with a couple of goals each.
Craig Wray and Jack Doman were two of the better players on the ground and Brendan Neville continues his superb 2016 form.
Beau Hendry was Pines' best player and combined well in the middle with Chris Guganovic while Aaron Edwards and Guy Hendry booted three goals each. There's no doubt that the Pythons missed Tim Bongetti.
Bonbeach made it seven wins from its past eight games with a solid 11.10 (76) to 9.8 (62) victory against Mornington.
While coach Steve Hughes believes his side is "still a way off the top three", he conceded that his team was building week after week.
"We are a hard working team that just grinds out wins at the moment. I think there is still some daylight between the top teams and us," Hughes said.
"I still don't think we are playing our best footy but individuals and the team are starting to play some more consistent footy.
"Josh Bull is doing a great job with the reserves also and they are playing really well, so there's competition."
Shane McDonald was again superb for the Sharks with five goals while Matt Douglas, Jackson Sole and Chris Bryan were outstanding also.
Joel and Warwick Miller were Mornington's best.
Karingal recorded a superb 18.11 (119) to 10.12 (72) victory over Chelsea on Saturday on a day that the 1996 premiership team celebrated its 20th anniversary.
The Bulls opened the game with five goals to one with Harry Czarnecki on fire with three goals to set up the victory.
Aaron Paxton, Leigh Poholke and Chris Hay all booted four goals each for the Bulls while Michael Burke was the best player on the ground.
Zac Graham and Todd Gardiner were the best of the Gulls.
Seaford booted 11 goals to two in the opening term against Langwarrin and went on to win 17.12 (114) to 9.4 (58).
It was one of Langwarrin's worst defeats of the year, struggling with the confines of the Seaford Rd oval.
Aaron Walton starred for the Tigers with six goals while Curtis Murfett and Nick Brand with four goals dominated.
Nick Tuddenham and Zac Andrewartha were the best of the Kangas. Club legend Daniel Wehner played in the reserves.