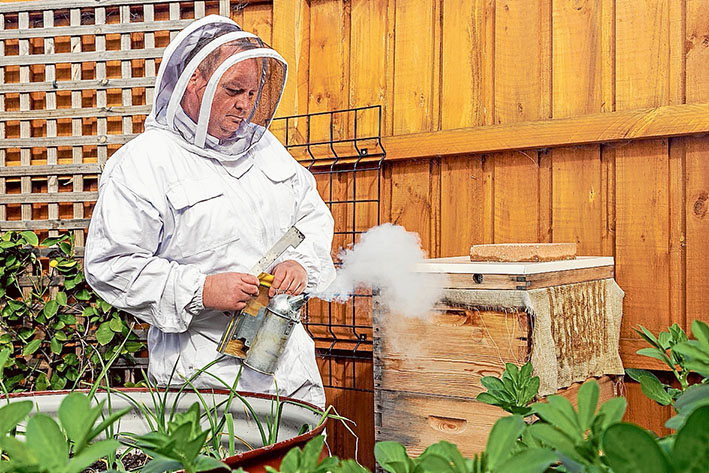 THERE'S a buzz about Kingston suburbs. Beekeeping  is increasing in popularity as a hobby but it is important to learn the basics of beekeeping and harvesting honey before installing a hive according to a Mordialloc beekeeper.
Tony Buckle says budding beekeepers should learn about urban beekeeping and an information evening at Chelsea Heights Community Centre this month is the perfect chance to head along and get some tips.
"It's like any hobby, if you go in blindly you're just not going to do it probably," Mr Buckle said.
"There's a lot more to it than people think and the main thing is the husbandry of the bees – it's not all about just taking the honey."
Scouting out a suitable position, at least three metres away from any neighbouring home's fence, is important as is understanding pests and diseases that can harm bees.
He recommends people look after European honeybees.
"The Italian ones are particularly good because they're quite docile but it does depend on the Queen bee."
As for being stung, Mr Buckle says this is "part and parcel" of beekeeping but it is not too sore.
Wearing white is a way to ensure bees see a keeper as being friendly.
"Novices wearing a brown wooly jumper couldn't look more like a bear and wonder why they get stung."
Being "slow and fluid" around bees in hives also reduces the risk of bee stings.
"It's quite a meditative hobby really when you get into that flow … don't go in making a lot of noise or you can be in trouble."
He says the average Queen lays about 2000 eggs per day and there are 60,000-80,000 bees per average-sized beehive.
Mr Buckle says it is good that more people are interested in keeping bees since it replenishes dwindling numbers.
Prospective beekeepers should check with Kingston Council before installing a beehive. Certain species of feral bees are not allowed to be kept on residential properties as are European or English wasps.
"Obviously humans come first but a hive's footprint is very small and bees will fly out within a 10-kilometre radius," Mr Buckle said.
An 'Urban Beekeeping and Honey Production' information session by Diana and Nikolai Faizoulline from Hampton Hives will be held at Chelsea Heights Community Centre, Beazley Reserve, 160 Thames Promenade, Chelsea Heights on Monday 25 July, 7pm. Entry $5. See chelseaheightscommunitycentre.com.au or call 9772 3391 for booking details.

             
First published in the Chelsea Mordialloc Mentone News – 13 July 2016