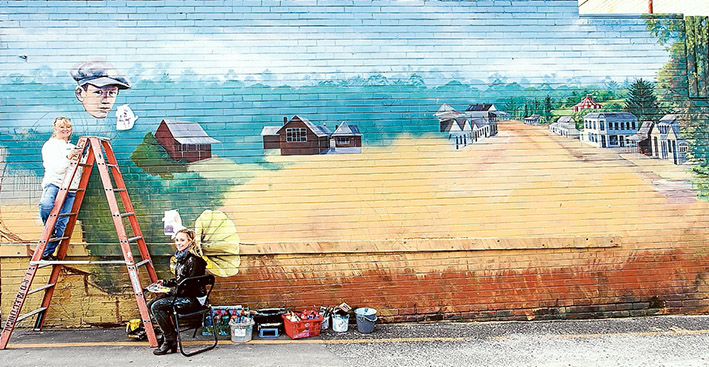 THE drab weather in recent weeks has not stopped artists Bridgette Dawson and Melissa Turner brightening up Thompsons Lane in Frankston as part of a council-led push to bring art to the masses.
The Melbourne Murals duo are integral to council's initiative to improve the look and feel of central Frankston after they also painted a vast Alice in Wonderland themed mural at Frankston Library last year.
Their latest mural, based on scenes from Frankston raised author Don Charlwood's 1965 classic coming of age book All the Green Year set during the Great Depression of the 1920s, is taking shape after weeks of work.
Several large sculptures will also begin to be installed at several public spaces next week, weather permitting, as part of a partnership between council and Sydney-based Sculpture by the Sea ('Sculpting art displays by the bay', The Times 11/7/16).
"We already have a vibrant arts community in Frankston, as illustrated by the McClelland Sculpture Park and the Frankston Arts Centre, both of which draw the majority of their patronage from outside of Frankston," Mayor Cr James Dooley said.
"This program aims to bring even more art lovers to Frankston to get a taste of our strong arts culture."
The mayor says council is also talking to McClelland Gallery, located in Langwarrin, about participating in future sculpture installations across Frankston as part of council's 'Enjoy Every Moment' tourism marketing campaign.