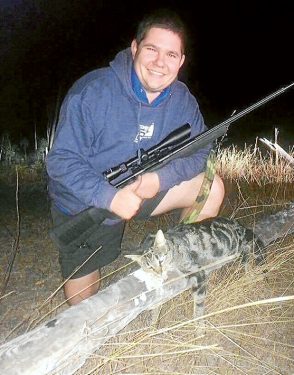 IMAGES on a Facebook page dedicated to the killing of feral cats have been called "disturbing" by federal Liberal MP for Flinders Greg Hunt.
Mr Hunt, appointed as Industry, Innovation and Science Minister in a Coalition government cabinet reshuffle last week, was contacted by The Times for comment on the Cat Busters page while still Environment Minister.
In 2014 Mr Hunt launched a $10 million federal government program "to tackle feral cats", as part of a Threatened Species Strategy, across Australia since the wild cats pose a threat to native animals.
Despite the government's push to eradicate feral cats, Mr Hunt cautioned against people taking matters into their own hands.
"The images on the Cat Busters Facebook page are disturbing," he said in a statement.
"The federal government condemns the messages and information portrayed on the site and will report any inhumane treatment of animals to the relevant state authorities.
"The federal government does not encourage individuals to shoot or trap feral cats."
The creators of the Cat Busters page came under fire earlier this month when flyers were distributed in the Frankston area notifying residents stray cats ('Who you gonna call? Not Cat Busters', The Times 18/7/16).
Cat Busters representative Matt Trim told The Times the group does not shoot in residential areas or kill domestic stray cats, preferring to use cages to trap the errant pets during council mandated curfew times.
Mr Hunt faced criticism from global animal rights activists, including French actress Brigitte Bardot and Steven Morrissey, the former singer of English indie band The Smiths, over the government's allegedly "inhumane" plans to kill 2 million feral cats across Australia over five years.
Mr Hunt stuck to his guns saying the government eradicates feral cats in accordance with the RSPCA's "criteria of humane, effective and justifiable culling".
The Liberal MP for Flinders said the government has also allocated $4 million to the development of a poison called Curiosity to kill cats.
"It is a highly effective and humane feral cat bait that is currently being assessed for use and is expected to be available shortly."