SOCCER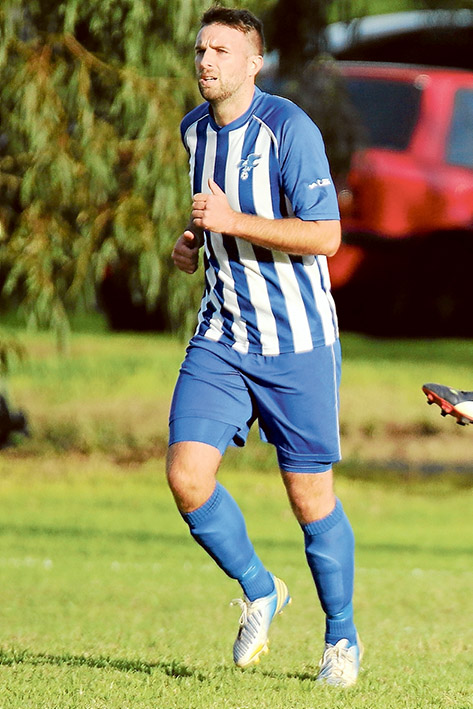 By Craig MacKenzie
BAXTER continued to celebrate promotion from State 5 South with a 3-0 win over visitor Pakenham United on Saturday.
Baxter created enough chances to make this a double-figure rout as Shaun Walker turned on a midfield masterclass while strikers Mark Pagliarulo and Liam Kilner terrorised the Pakenham defence.
The visitors can thank keeper Jarrod Reynolds whose heroics time and again kept his team in the contest.
Baxter should have scored four goals inside a five-minute period of the first half highlighted by an interpassing combination involving Frank Ntim and Pagliarulo and ending with a first-time Kilner volley that went wide.
One minute later Daniel Disseldorp unleashed a 25-metre thunderbolt that sent the ball crashing against the inside of the far post and bouncing back across goal before being scrambled clear.
Pagliarulo finally broke the deadlock in the 51st minute when he received a quick long throw-in on the left of the penalty box then skinned two defenders before sending a firm low shot that beat a diving Reynolds at the near post.
Bryce Ingram and Daniel Sharratt blew one-on-one chances before Kilner gave Baxter a two-goal cushion with a firm header in the 71st minute getting on to the end of substitute Rhys Wilson's deflected cross.
Pagliarulo broke onto a long Heath Goss ball in the 80th minute and once clear of Reynolds had a tap-in to complete the scoreline.
Rosebud Heart remained on track to complete the season with a perfect record in State 5 South after a 3-1 home win over East Bentleigh on Saturday.
Dave Greening gave Heart the lead in the 25th minute with a spectacular side-foot volley following a superb Blake Hicks cross.
But East Bentleigh caught out Heart on the counter attack in the 45th minute to make it 1-1.
Despite dominating possession in the second stanza Heart had to wait until the 76th minute to regain the lead thanks to a low volley from Hicks from just inside the box.
Eight minutes later a long clearance from Heart keeper Sean Skelly sent Greening through and he made no mistake for his 28th goal of the league campaign.
The State 2 South-East clash between Peninsula Strikers and St Kilda on Saturday was abandoned after Strikers keeper Ritchie Ojo fractured his tibia and dislocated his ankle in the 15th minute and had to be taken to Frankston Hospital.
Ojo was operated on the following morning and his playing future remains uncertain.
Harry McCartney reports that Seaford United continued its recent fine form with a 1-0 away win over Doncaster Rovers in their State 2 South-East encounter last Friday night.
Seaford has now taken eight points from its past four games and what once loomed as a horror season has been transformed thanks to senior coach Paolo Pinheiro and his staff.
Dylan Waugh has played a significant role in the change in the club's fortunes and his 15th goal of the season was enough to give Pinheiro's men all three points against Rovers.
The home team failed to clear a Paul McGuire corner in the 30th minute gifting Waugh a simple header.
McGuire was denied from the penalty spot by Rovers keeper Matt Davoli in the 65th minute while Seaford custodian Paul DiGiorgio, who has been in fine form since returning from injury, chalked up another clean sheet.
Mornington maintained its march towards back-to-back State 1 South-East titles with a 3-0 away win over relegation-threatened Berwick City on Saturday.
Goals to Steve Elliott, Shane Tagliaferro and Andy Skledar in the second half settled the issue.
Mornington has received an international clearance from the Hellenic Football Federation for 36-year old central defender Stylianos Maistrellis, who boasts a stint with AEK Athens on his CV.
Maistrellis has returned to Greece but plans to relocate to Melbourne later this year.
Langwarrin edged out Mooroolbark 4-3 in Saturday's State 1 South-East contest at Esther Park.
Mooroolbark's Brett Tronconi looped a floating header over Langy keeper Robert Acs in the 34th minute to open the scoring.
Langwarrin then had a strong penalty claim denied after Koray Suat was brought down but just on half-time another infringement on Suat saw the referee point to the penalty spot and Langy scoring legend Caleb Nicholes obliged.
The second half was only minutes old when Nicholes headed home a cross from Nick Thorogood to make it 2-1.
Within three minutes scores were level after Davey Breckett equalised for the home side with another header.
Nicholes secured his hat-trick from a free kick to make it 3-2 but an Alex Van Heerwarden own goal made it 3-3.
The issue was settled by Langy substitute Brandon Giles when he struck home a cutback by Nicholes late in the match.
But for two stunning saves by Acs the home team could have come away with a share of the points.
Frankston Pines continued to stare down the barrel of relegation from State 1 South-East after losing 6-1 away to Malvern City last weekend.
Daniel Hilder and Jordan Templin both notched hat-tricks while Pines' solitary response came from Josh Calle.
Pines' captain Kyle Crawford has moved to New Zealand while veteran sweeper Ben Caffrey is overseas and will miss next weekend's clash with Clifton Hill.
Goals to Matt Wilson (2), Nick Theodore and Michael Putson spearheaded a 4-3 away win for Skye United over Lyndale United last Saturday.
Skye remains on top of State 4 South a point ahead of Keysborough and is at home to East Brighton on Saturday night.
NEXT WEEKEND'S GAMES
Saturday, 20 August, 3pm:
Mornington v Casey Comets (Dallas Brooks Park)
Langwarrin v Warragul Utd (Lawton Park)
Clifton Hill v Frankston Pines (Quarries Park)
Seaford Utd v Noble Park Utd (North Seaford Reserve)
Beaumaris v Peninsula Strikers (Beaumaris Reserve)
Dandenong Warriors v Rosebud Heart (Lois Twohig Reserve)
Baxter bye
Saturday, 20 August, 8pm:
Skye Utd v East Brighton (Skye Recreational Reserve).