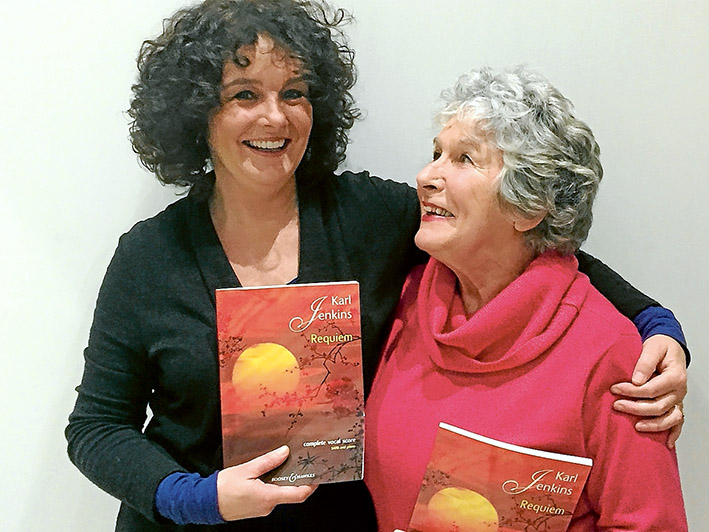 MORNINGTON Peninsula Chorale members Gabrielle Dole and daughter Anna Jones can't wait to hit the high notes in New York on the group's first overseas trip next year.
The chorale's invitation came about after they performed Sir Karl Jenkin's Armed Man at Frankston Arts Centre at last year's Anzac Day centenary celebrations. 
In the "Big Apple" in January, 50 members of the group will perform with choristers from around the world at the Distinguished Concert Singers International at the Isaac Stern Auditorium, Carnegie Hall.
The family has a long background in music and performing. Gabrielle Dole (nee Bradley) was born in Brighton in the 1940s, the eldest of five children to Jack and Leonie Bradley.
In the 1950s Gay, as she was known, encouraged sisters Suzie and Pauline to sing together in harmony with the help of an old wooden frame piano. They sang on radio talent shows and early TV talent quests.
In the 1960s they toured with the Tivoli as backing singers in an Ice Follies revue and later settled in Sydney where they were back-up singers for Festival Records behind various pop singers, including Col Joy and Johnny O'Keefe.
They also secured a regular spot on Johnny O'Keefe's Sing, Sing, Sing show on channel 7.
In the late 1960s, after Pauline left the group, they brought in little sister Leonie before working on the ABC variety show Start a Living in Melbourne. Gabrielle then married and moved to live in country Victoria.
Suzie and Leonie sang in a concert tour of Vietnam for nine months.
Anna, Gabrielle's second daughter, showed an early talent for singing, even singing before she could talk. At that time the family was living in Ethiopia and her first language was Amahaic.
Anna went to the same school, Star of the Sea, as her mother and older sister Simone. There, she studied music and sang in the special choir and was chosen for lead parts in school musicals.
She also sang in the Australian Children's Choir and later the Faversham Singers.
"Often people ask where musical talent comes from," Anna said.
"On the Bradley side, Jack's first cousins were all classical musicians.
"Among them was renowned violinist Desmond Bradley. Nanna (Leonie's) first cousin was a member of the Parker Sisters who sang on radio and were popular during World War II. Gabrielle was always sent to stay with them when Nanna was having another baby.
"Jack and his family were all competent singers in the Irish tradition. The same applies to Dad's (Dole) family.
"In those days all families sang. It's so different these days – especially when you hear footballers trying to sing."
Member Jennie Boux said the chorale was seeking funding from government at all levels, and exploring other avenues of fundraising "to help us reach New York".
Senior member Judi McKee said the trip would be a wonderful experience. "It's a really exciting time for the choir," she said.
"We will benefit from singing in such a wonderful location and walking in the footsteps of famous names at such as illustrious venue."
The chorale began in 1979. Its 93 members perform an oratorio and proms concert with Frankston Symphony Orchestra each year, as well as a Christmas concert. Its director is Tom Buchanan.