Obituary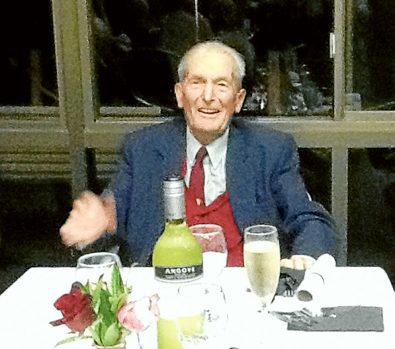 Des Calverley, 21/11/1919 – 10/8/2016
DES Calverley was born in Wee Wee Rup, on the Murray Valley Highway about 10 kilometres south east of Cohuna. He lived in Leitchville, a dairying centre, until he was 14, when like many others he left school; a common practice in those days. In 1937 he went to live at his grandmother's hotel in Brunswick and after the sale of this hotel, they moved to the Buckingham Hotel, Footscray.
His working life was spent with the British United Shoe Machine Company in Fitzroy. In 1941 he married Marie (Mollie) Ryan and the partnership lasted 73 years, Mollie died in August 2013.
Des continued to live in Frankston and was visited weekly by his sons.
He belonged to many clubs over the years.
He joined Fitzroy Football Club in 1937 and played as a wing and a rover. He played 52 games for the firsts and played in the seconds grand final in 1944. He joined Richmond in 1946, playing 18 games in the firsts and in 1947 played for Richmond in the seconds grand final. Overall, Des played 70 senior games in the VFL.
His two sons and his brother Bruce also played for Fitzroy, with Bruce playing in the team's 1944 premiership.
After his retirement from football, Des stayed involved with the Fitzroy Football Club, was on the selection committee, was involved in recruitment and became vice president and filled in as president during a time of committee and board upheaval.
Des moved to Frankston in1982 and became a member of the City Of Frankston Bowling Club where he remained a member for 34 years. He won the minor championship in 1983. He also won two triples championships and four premierships.
Des believed that sport gave you a good look at the lives of other people and allowed you to make and keep friendships, and enables you to keep mentally and physically healthy. He also preferred team sports as they help you make friends and even when playing opposing teams you form friendships.
Des was active as a volunteer at the club and stayed through the ups and downs that many clubs have. He was honoured in 2012 by having one of the meeting rooms at the club named the Des Calverley Lounge.
His advice to members, especially young players, was: "Listen to your coach and be patient with yourself."
Des was a respected member, his keen sense of humour and his positive attitude shone both on and off the green.
A fond memory for many was Des trying out his new bowls in 2011 when he was 92. He will be missed.
Paul Lambert, City of Frankston Bowling Club