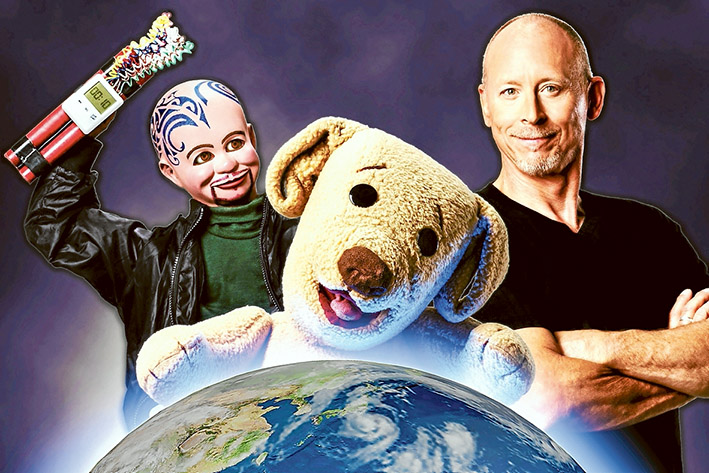 INTERNATIONAL comedy star, David Strassman's brand new show, iTED E is an uproarious take on our technology-­laden lives. The sharp-­tongued Chuck Wood and loveable Ted E. Bare have been thrust into the world of social media, constantly on their iPads and iPhones, not interacting with the real world. With everyone connected to social media and the internet 24/7, will Strassman get them back under control?
Strassman's iTedE introduces an amazing new technology that brings the world's most advanced Puppetronics to the stage. In a world-­first feat, Strassman simultaneously operates 5 characters in a hilarious never-­before-­done, 6-­way conversation, using a handheld wireless remote control that sets new standards in ventriloquism.
Combined with cutting edge lighting and state-­of-­the-­art production, Strassman and his well known puppet characters will bring mayhem and theatrics to a set designed by one of New York's most renowned stage designers, Luke Cantarella.
Since his early performances in the 1990s, Strassman has been embraced in Australia and completed numerous television appearances as well as his own show on Channel Nine called 'Strassman', with subsequent series on ITV England and TV3 New Zealand.
iTedE will be sure to delight audiences with side-­splitting comedy, jaw dropping Puppetronics and a visual feast on stage. It's the ultimate great night out.
As part of his National Tour, Strassman will deliver iTedE to the Frankston Arts Centre on 4 October.
Tickets on 03 9784 1060 or www.thefac.com.au