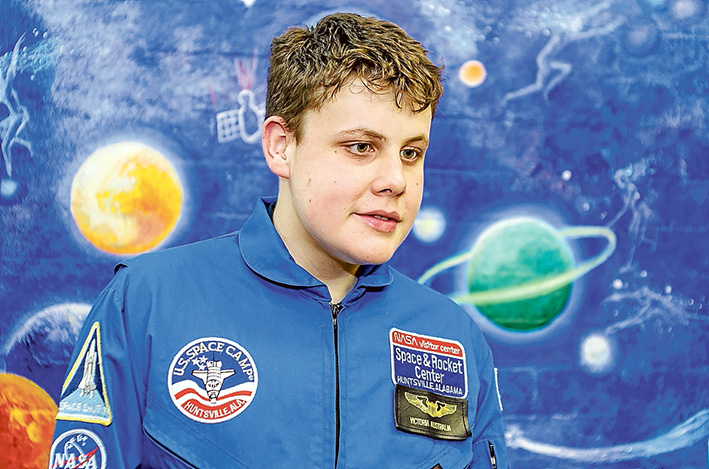 BEING vision impaired has not affected Seaford student Ethan Connolly-Kelly's spirit and determination.
The 16-year-old student at Seaford's Nepean School has been selected to head off to Alabama in the US this month for a Space Camp for Interested Visually Impaired Students (SICVIS).
Ethan was born with rare medical condition, septo-optic dysplasia and optic nerve hypoplasia, and is legally blind. At age three he had a stroke and spent several months in the Royal Children's Hospital, after which he endured years of therapy and had to learn to walk and talk again.
His grandmother Suzanne Kelly said that despite his physical challenges Ethan shows great empathy and support for others.
"Ethan is an incredible young man who is courageous, resilient and extremely dedicated to achieving his goals."
Ms Kelly said Ethan had been doing some public speaking trying to raise community awareness about his rare medical condition and "give back to the community by sharing his journey".
"It is an absolute joy to be able to see him realise the goal that he has been working on for two years to participate in SCIVIS and his dream is to be able to visit as much as he can of the world and to make new friends from all over the world."
Ethan said the camp offered a lot of opportunity for individual challenges, as well as working in roles and being part of a team working together.
"Ever since I found out about the camp from my teacher in 2014, it's been my goal and dream to get to get there," he said.
"I hope by participating in space camp I will be able to share my experiences, to give hope and to break down barriers that all things are possible and to strive for dreams and goals."
Over five days students will participate in a range of activities and challenges, including scuba diving in a simulated space environment under water, aviation challenges, obstacle courses and a 49 foot rock climbing wall.
Participants will learn about astronomy and science, participate in simulated space challenges and discover rocket science. At the end students attend a 4-hour space mission, using all the skills they've learned.