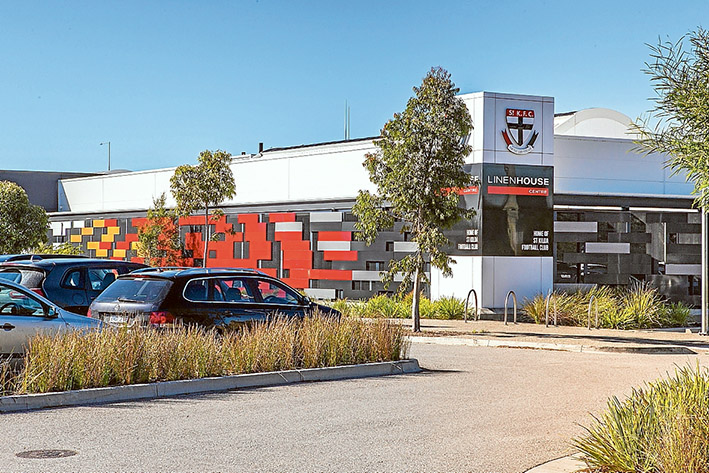 THE Saints are definitely marching back in to Moorabbin. Councillors at a special public council meeting last month unanimously voted to approve the planning application, after much debate, for the $28.4 million redevelopment of the club's Linton St premises.
The approval followed council's decision to approve a 50-year lease at Linton St including an 84 per cent reduction in building rent ("Saints go cashing in with discounted lease", The News 29/8/16).
Objectors to the redevelopment of the oval and function centre at Linton St have concerns over increased traffic, the impact of lighting towers on nearby homes and the loss of trees since the venue's footprint will increase in size.
An all-year round 1am licence for pokies and 2am licence for the function room could also cause noise problems for nearby residents according to objectors.
A proposal by Cr Rosemary West to ask St Kilda Football Club to reduce the number of pokies machines at the venue from 83 and move them away from the social club's entrance was defeated.
Punters lost $2,223,654 in 2015-16 at the venue in 2015-16 compared to $2,294,691 in 2014-15.
Councillors noted community objections but believed the AFL club's board and management were more consultative than the previous administration that decided to quit Moorabbin and head to Seaford in 2010 over a dispute with Kingston Council around pokies.
Saints CEO Matt Finnis addressed last month's council meeting and said he hoped the club could rebuild links with the Kingston community.
"We want it to be a vibrant place the community can be proud of."
Southern Football Netball League, South Metro Junior League, Sandringham Dragons and AFL Victoria will also use the redeveloped facility due to begin construction next year.
First published in the Chelsea Mordialloc Mentone News – 5 October 2016