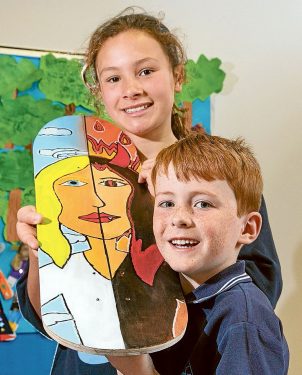 THE city was the inspiration for Parkdale Primary School children who used the iconic sights and high-rise skylines as creative inspiration for their biennial Parkdale Art & Craft Exhibition.
The event will feature nearly 1000 pieces, including masks inspired by the look of the Luna Park entrance, pastel cityscapes in a homage to Kandinsky, spray-painted skateboard decks with a 'street-art' theme, and many other works to be showcased in an industrial-styled exhibition.
As well as art and craft completed in class, children also have the opportunity to exhibit their work from outside school.
"We are thrilled with the enthusiastic response of the kids to what was an evolving theme," art teacher Sharon Clough said.
"Our middle grades looked at positive aspects of the city, designing masks to recreate the famous Luna Park face, and using wire and other materials to make mannequins of sports people; Melbourne being such an iconic sporting capital.
"The older kids usually love the art program but we saw a huge boost in their enthusiasm as we worked with the concept of 'street art'."
Ms Clough said the school talked to the children about what is art and what is damage, raising awareness of the negative impacts and consequences of graffiti.
"For our younger pupils, the art program is more about engagement, skill-building and allowing their natural creativity to shine through."
The school's main focus is linking projects to the literacy program. All students have work in the show, and senior students will also be involved in the running of the event.
The Parkdale Art & Craft Exhibition is on Sunday 16 October, 10am-3pm at Parkdale Primary School, 305 – 311 Nepean Highway, Parkdale.
First published in the Chelsea Mordialloc Mentone News – 12 October 2016