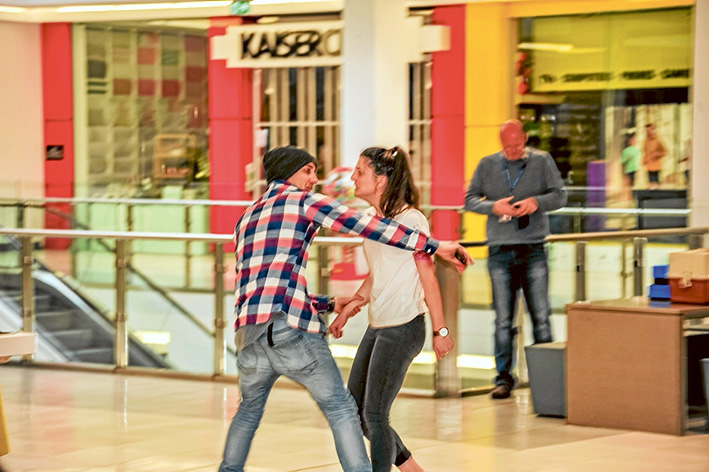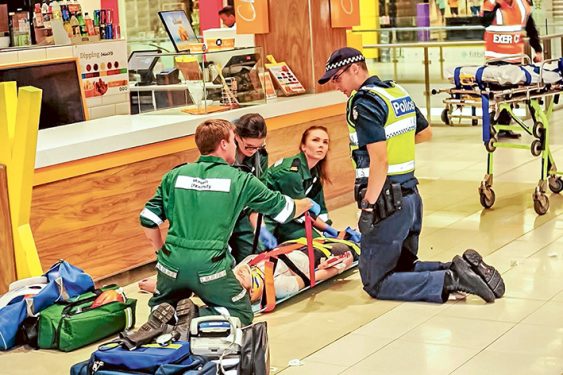 A BURNING car on the roof of a shopping centre, a deranged man holding a knife and two innocent people stabbed.
That was the contrived scenario facing 75 first responders during a mock emergency exercise at Frankston's Bayside Shopping Centre last week.
Although it was only an exercise, it felt very real at the same time for participants including Frankston police, CFA, ambos – and a group of Monash University final year paramedic students who put their medical skills to good use coping with the carnage. 
Frankston police Sergeant Pat Hayes said the exercise was a vital training aid in which a range of complementary services could practise working together, fine tune their skills and liaise on a professional level in a supposedly crisis situation.
It was certainly a dramatic scene, with CFA crews in thick smoke extinguishing the simulated car fire, and police searching for the "offender" who then "stabbed" his ex-partner at her workplace – the centre's food court – as well as a bystander trying to help her. Ambulance crews and the paramedics treated the "wounded" while the focus shifted to tracking down the offender using the CCTV cameras and watching his movements.
This part of the operation was handled by the Frankston police's divisional operation support office (DOSO) crews using CCTV cameras who liaised with officers at the shopping centre, followed the suspect and advised police on the scene.
The exercise ran from 6.30-8pm with a 30-minute debriefing afterwards. Each action was assessed for its effectiveness in a specific timeframe.
"Afterwards, we went over it and discussed how it had played out and sought feedback," Sergeant Hayes said. "We finished off with a question-and-answer session to see what we had done, what we could have done better and what we can improve on."
He thanked the students for their participation.
"These exercises are an enormous learning curve and assist us to smoothly implement best emergency management practices into a 'real time' event."
Monash University teacher and ambulance paramedic Paul Toll said the 10 third-year paramedic students – including the two "patients" – loved their roles in the exercise.
Student Charlotte Patton played the deranged assailant's "ex-partner". She wrestled with him and was dragged over the counter in the food court during the "confrontation" when "bystander" Jake Hickleton intervened. Sadly, he was "stabbed" several times and "died" of cardio arrest at the scene.
"They all loved their roles," Mr Toll said.
"They have all done placements previously and used advanced life support treatments that paramedics apply while out on the road."