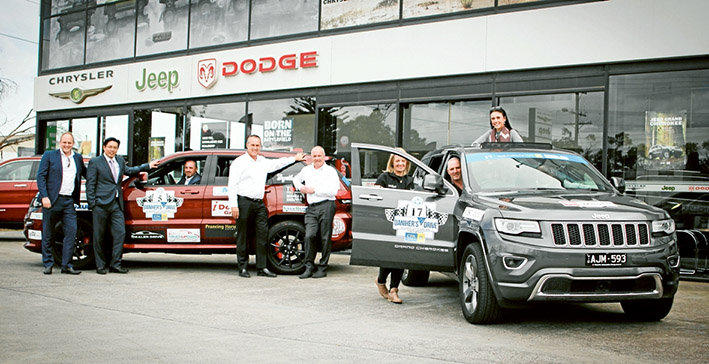 IT is hard not to be moved by the story of Neale Daniher.
The football great was diagnosed with motor neurone disease in 2013.
Currently incurable, MND is a progressive disease involving the degeneration of the motor neurons and wasting of the muscles.
The life expectancy of a person diagnosed with this terrible disease is only about two and a half years.
Neale Daniher has not taken MND lying down though.
He has shown a determination to live life to the fullest, and face the challenges this disease brings with courage, humour, and a drive to help prevent the suffering of those that may be diagnosed with this disease in the future.
It was through a few meetings with Neale Daniher that Brad Fitzsimmons, the Dealer Principal at Bayside Automotive Group in Frankston, decided to get involved with Neale's crusade to find a cure for MND.
"He is such an inspiration. His spirit and drive are unbelievable," said Mr Fitzsimmons.
"It got me thinking. If he can do all this to work towards a cure for this disease then why aren't we doing more?"
That was the catalyst for Brad and his band of supporters to get involved in this year's Daniher's Drive, which ran between 13 and 16 October.
"Daniher's Drive last year raised over $500,000 that will go towards curing MND.
"This year, they aim to raise over $700,000. The great news is that, even before the event had started, we had raised over $556,000 for 2016!"
It is an impressive sum of money, and Brad's team have raised a considerable amount towards the overall sum.
"We jumped on the phone to all those great businesses and people we deal with. We've asked them to put their hands in their pockets for such a worthy cause.
"We've also had great support from Suzuki Australia, Jeep Australia, and our parent company, AHG".
The 'Bayside Slayers' as they call themselves, will be joined by 'A Positive Move' team, also behind the wheel of a Jeep Grand Cherokee.
"It will be great to have another Jeep alongside us. They are fantastic cars, and I'm sure they'll handle the over 1,100 kilometre route with ease!"
The trip is tinged with sadness for the 'A Positive Move' team. The car was to be driven by Dick Custerson.
Mr Custerson recently lost his battle with cancer.
"Dick was a great friend of ours, and will be sorely missed. Dick's car will be driven by Brett Lovett who will be accompanied by his wife Jody, and Sue and Saree from 'A Positive Move'".
The four day Daniher's Drive took the cars up through Lilydale, Yea, Mansfield, Bright, Mount Hotham, Lakes Entrance, Sale, Inverloch, San Remo, and Cowes before heading back to Melbourne on Sunday 16 October.
To donate to Daniher's Drive, go to: curemnd.kindful.com/danihersdrive/bayside-slayers