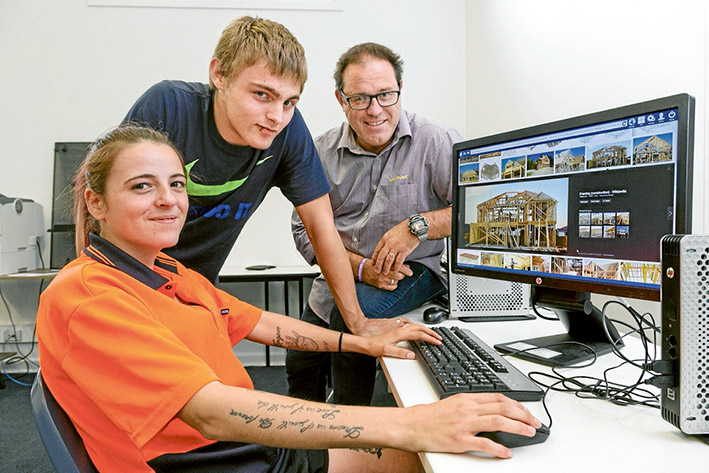 LIKE so many young people, school just didn't cut it for Frankston teenagers Jessica and Adam, but that's not the end of the story thanks to a program that is helping them learn valuable employment skills.
Young people in the Frankston area who have been disengaged from school for 18 months or more are being given an opportunity to explore career options away from the confines of school thanks to a new pre-apprenticeship program funded by the Apprenticeship Employment Network (AEN), in partnership with the Brotherhood of St Laurence.
Skillinvest program developer Jarrod Flanigan said the program was designed to assist young people who had become disengaged from formal education and were unsure of where to go from there.
The program allows participants to try different jobs in the building and construction, automotive and business trades and combines theory and structured work placement.
Jessica and Adam are among ten participants between 15 and 22 enrolled in the program, which runs for 15 weeks.
Program manager Dale Gemmell said the program was designed to guide students to an area of work they are interested in so they can be assisted to continue their training and secure a full-time apprenticeship.
Jessica, a mother-of-one, said the inflexible structure of school didn't fit with her situation, and she felt her options were limited until she came across the pre-apprenticeship program.
She has had the chance to learn some practical building and construction skills and has completed a cubby that will be donated to the childcare centre her son attends. Now that she has finished the construction elements, Jessica moves on to automotive, which she feels will be her career path.
"I have learned things I never would have experienced before, and it's given me practical skills and well as confidence." she said.
Adam, 22, who had not been in formal education for more than six years, said the program gave him a chance to start and finish an entire project, and re-engage with learning in a positive way.
"School just wasn't for me, I was always getting into trouble and couldn't focus, but this program is so different and it's about learning interesting, practical  things."
Mr Flanigan said both students had shown a strong commitment to learning.
"These kids have been fantastic and it just shows what you can achieve when you get the support and you find the right path."