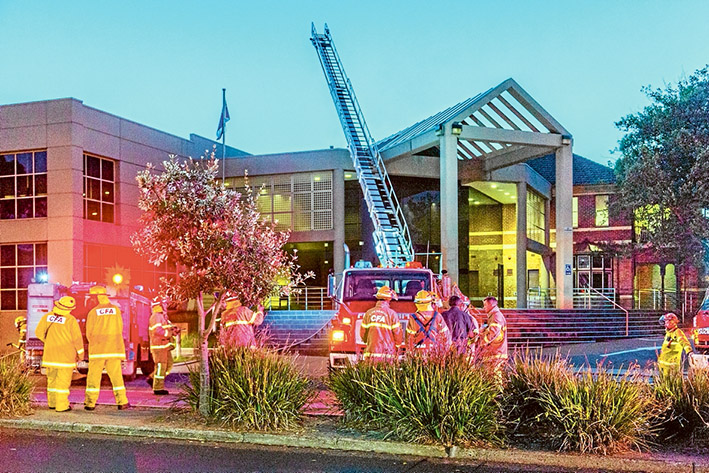 A FIRE at the Centrelink offices in Frankston last week was probably caused by a portable heater igniting flammable material, firefighters say.
The Frankston brigade responded to an alarm and "multiple calls" at 5.25pm, Tuesday (18 April), supported by CFA units from Patterson River, Mt Eliza, Mornington, Langwarrin and Baxter.
The blaze at the Frankston Service Centre on the corner of Young and Davey streets, which provides Centrelink and Medicare services, pushed out windows on the Young St side.
Frankston leading firefighter Stuart Powles said firefighters from 11 trucks fought the blaze which had "multiple seats of fire".
He said a 20 by 20 metres office area was extensively burnt in the blaze, and smoke and water caused damage to other parts of the building.
Centrelink staff on-hand after their work day helped move any flammable material, and extraction fans helped disperse smoke.
Crews were on the scene for four hours, mainly clearing smoke after the fire had been contained.
The centre will remain closed until further notice.
A portable desk has been set up outside the building for Centrelink clients.
The Department of Human Services says residents could access in-person Centrelink and Medicare services at the Mornington, Hastings, Cranbourne, Cheltenham and Dandenong service centres. Staff from Frankston were being redeployed to those sites to bolster services.
"Some staff will remain at Frankston in the interim to direct people to neighbouring offices and to also assist people with urgent business," the department's website said.
"We ask people to consider delaying non-urgent business and encourage the use of digital service options available, such as the Express Plus Mobile Apps and online and phone self-service, to do routine business with the department.
"We will be keeping local residents informed about temporary servicing arrangements once they have been finalised.
"We appreciate people's patience during this time and want to reassure them we are working hard to minimise disruption to services."
The damaged Davey St building also houses an Australian Red Cross Blood Bank and the office of Dunkley federal Liberal MP Chris Crewther.