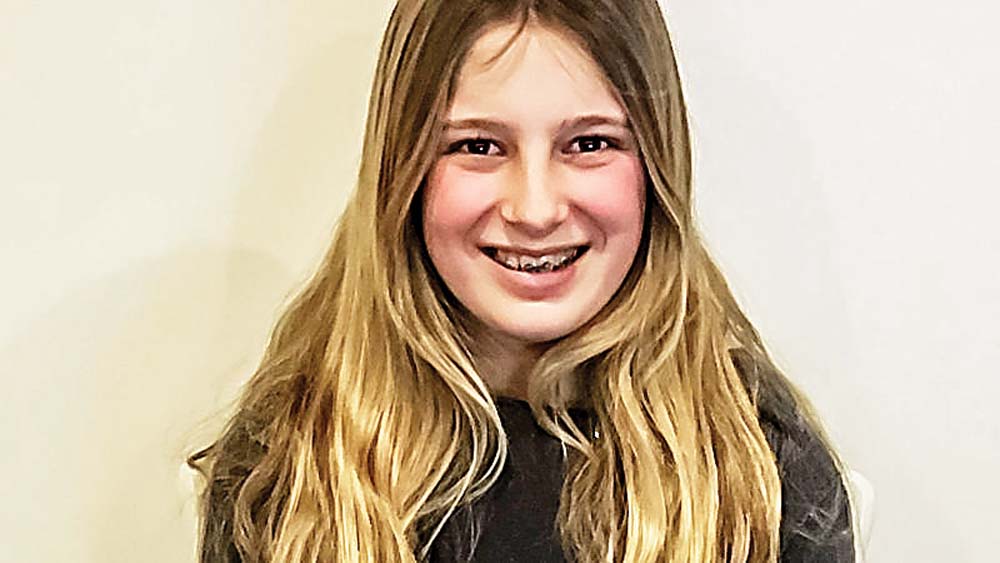 TYABB girl Ella Crofts has been praised by federal Health Minister and Flinders MP Greg Hunt as a "very brave and courageous young lady".
Mr Hunt's comments were made while promising $2.4 million following the 13 year old's campaign for research into the Buruli (or Bairnsdale) flesh-eating ulcer from which she suffers.
The disease has been described as being rampant on the Mornington Peninsula where incidences have more than doubled in the past year.
There has been a 300 per cent increase in the number of cases in Victoria in the past five years.
In the past two years, the number of cases in children (0-15 years old) has doubled. In the 12 months to 11 September 239 cases have been reported in Victoria. In the past month 40 new cases have been reported. This compares to the 89 for the whole of 2014.
Infectious diseases specialist Professor Daniel O'Brien was last month treating 25 people with the flesh-eating ulcer at a Sorrento clinic. He also liaises with Frankston Hospital and GPs in the region who are treating patients with the condition.
He told The News in August that the disease was on the rise and not fully understood. "We still have a lot to learn about where the bacteria live in the environment and how they are transmitted," he said.
The bacteria, which do not enter the bloodstream, infect the skin and subcutaneous tissue, Prof O'Brien said. Cases are centred at Rye but also Tootgarook, Blairgowrie and Sorrento. Several cases have been reported at Mornington and Frankston.
Australia is the only developed country with significant Bairnsdale ulcer outbreaks. The name came from the Gippsland town where the first patients presented in 1939.
Professor Tim Stinear – a microbiologist at the Peter Doherty Institute for Infection and Immunity and whose parents have a house in Mornington – believes mosquitoes are the "main way the bacteria are moving".
He played down the link with possums, although saying people should wash their hands after gardening in case cuts or sores became infected through direct contact with contaminated soil.
"Mycobacterium ulcerans has moved from Gippsland into Melbourne since the mid-1980s where it is now endemic on the peninsula," he said.
Professor O'Brien said research indicated the bacteria may be on people's skin after they had been exposed to it outdoors. Mosquito bites could transfer the bacteria into the skin and tissue.
Many people had been bitten during the warmer months but nothing occurred until the cooler months. "We think the incubation period is about four and a half months," he said.
He advised people to cover up in summer and use insect repellent.
Ella Croft described her Buruli experience online when calling on the federal government to fund research into the debilitating condition: "I started feeling pain in my knee in early April. Slowly it got worse, with my knee becoming swollen and inflamed, until one day, the skin started breaking down.
"We tested the tissue with a dry-swab for bacteria multiple times. Each time it came back negative. My knee continued to worsen, despite several courses of antibiotics for simple infections. I eventually got a punch-biopsy in my knee which came back positive for mycobacterium ulcerans.
"Since discovering this information, I visited several infectious diseases specialists before coming under the care of a world expert. He recommended surgery to clean out the dead tissue. I ended up getting two operations that week.
"About a month later I had a third operation, again under general anaesthetic. I have had a couple of smaller surgeries under local anaesthetic since then. I've also had about three months of strong antibiotics – the sort that someone would use if they had tuberculosis.
"I've had six months of quality medical care and still have not recovered."
Ella said mycobacterium ulcerans was a third-world tropical disease "running rampant on the Mornington Peninsula".
Her mother Lucy Burns, who is a GP, told Channel 9 that when her daughter first complained of a sore knee there were no visible signs of the disease.
"There was nothing to see, then it started to look a little swollen around the knee but nothing too much to worry about," Dr Burns said.
"A couple of days later it started to get the smallest of sores like a scab or a carpet burn and then a bit of redness around it."
Heeding Ella's call, Mr Hunt last week said the federal government would provide "more than $2.4 million through the National Health and Medical Research Council (NHMRC) to Monash University and the University of Melbourne for direct research into the Buruli ulcer".
"I have asked the chief medical officer of the Australian government and the head of the NHMRC to work with Victoria on additional research priorities and support," he said.
"I understand the Doherty Institute may put forward a research proposal and I would welcome this."
Mr Hunt said he had spoken with Ella "who is a very brave and courageous young lady".
"She must be commended on a personal level and for her advocacy on this issue. Ella's father, Tyron Crofts, has also spoken with the chief medical officer about opportunities for further research into the condition."
Ella's post said the Bairnsdale ulcer released a toxin called mycolactone which decreases immune system function and causes tissue death. It is from the same family as leprosy and tuberculosis. How it spreads is unknown. There is currently no prevention against it.
"There have been over 150 cases of mycobacterium ulcerans in Victoria so far this year, she said. "Many of them are active, healthy kids like me, and most are on the Mornington Peninsula."
Ella asked: "Why are the numbers in Victoria increasing so rapidly? Why is it moving? It used to be common on the Bellarine Peninsula, now it is mostly on the Mornington Peninsula. Why is a disease that's found in tropical Africa also found in temperate Victoria? We don't even know how it spreads. Answers to these questions would help prevent a worsening epidemic."