SOCCER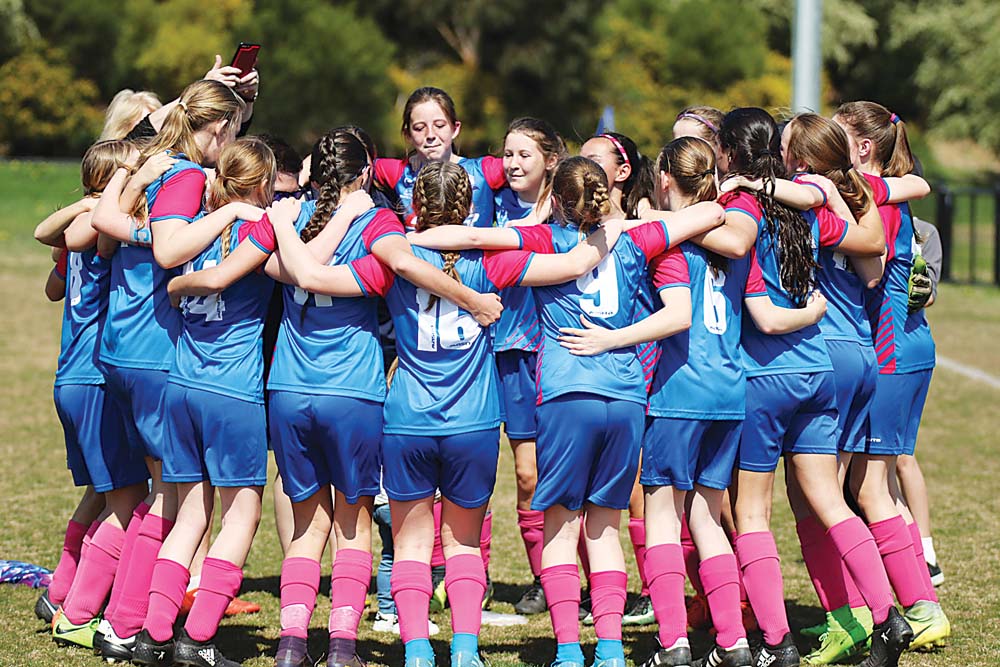 SOUTHERN United's championship-winning under-13s have won their way into the NPLW Grand Final after defeating Bayside United 2-0 at Comets Stadium last weekend.
The Grand Final takes place at 10am this Sunday at ABD Stadium in Meadow Heights and Southern will come face to face with its 2017 nemesis, Calder United, which finished runner-up in the title race.
Calder won the qualifying final 1-0 two weeks ago forcing Southern into last Saturday's sudden-death preliminary final.
But the local club will go into the clash primed by a meticulous preparation arranged by senior coach Emma Bracken and assistant Aaron Myatt.
"We'll train on the same nights – Monday, Wednesday and Friday – but we'll scale the sessions back from 75 minutes to 60 minutes and we'll do some hard, sharp, intense stuff," Bracken said.
"It'll be more about getting the girls into the right headspace because Calder's been a bit of a psychological barrier for us because of their physicality.
"All we need to worry about is playing our game. We've scored goals all year and we know that we can beat them."
The sides clashed three times in the league with Southern winning 4-0 and 4-1 but going down 2-1 away from home.
"The loss was on a tiny pitch and it was a very physical game and when we lost 1-0 in the qualifying final the pitch was really wet and again it was a physical game," Bracken added.
"We can't worry too much about what they're doing because we know what we are capable of and we'll play our usual way and try and take it to them because that's how we've played all year.
"If we get a good sized pitch and a good surface we know that we can play some good football."
Southern is hoping to enlist the help of Frankston-based sports psychologist Sue Lawrence to sit down with the squad and discuss strategies for dealing with the intensity and physical pressures of the looming showdown.
"We sometimes forget how young these girls are and this is a pretty big occasion that none of them have experienced before," Bracken said.
"I believe in them and I'm confident if we can get them into the right mindset then we can play to our potential."
The first half of last weekend's preliminary final was a tight affair with only two shots on target as both sides struggled to carve out clear-cut chances.
Southern mainstays Taylah Hennekam and Alex Jones were in their customary central defensive positions with captain Sage Kirby and Alessandra Davis in midfield.
Southern's dynamic duo, Golden Boot winner Rhys McKenna and winger Candy Kilderry, had finished the league campaign with 48 goals between them with McKenna finding the back of the net 28 times but a well organised Bayside defence kept them shackled.
The best chance of the half was engineered by Davis in the 21st minute when the pocket rocket cut a swathe through the Bayside midfield and charged into the penalty box.
She was fouled but maintained her balance and was only thwarted by a superb smother from Bayside custodian Ruby Dale who had read the danger and charged off her line effectively closing down Davis.
A significant positional change in the second half was the switch into a central midfield role of Hennekam with right back Ezel Duyar linking with Jones in central defence.
Hennekam can play, that is certain, but she also adds grunt to the engine room and is very effective.
Four minutes into the half the deadlock was broken.
Davis engineered a stunning break from inside her defensive half and surged deep into the right of the attacking half before striking a slide-rule pass to McKenna in a central position.
The ace predator controlled the ball then spun around and unleashed a low right-foot shot that Dale was helpless to stop from going inside the far upright.
It triggered a period of Southern dominance and after Kilderry was tripped just outside the area in the 43rd minute Hennekam's well-struck free-kick bounced off the top of the crossbar and over.
Three minutes later Bayside had a mountain to climb after the ball was played in from the right and was deflected to the far post where the incoming Kilderry made it 2-0 from point blank range.
Three times in three minutes McKenna came close to scoring.
She shot straight at Dale after good lead-up work by Kilderry in the 49th minute, effected a fine turn and shot that whistled past the far post a minute later then received the ball after a great Hennekam run into the area in the 52nd minute but sent her volley wide.
With three minutes of normal time remaining Davis and Duyar were rested and came off the pitch to rousing applause from appreciative Southern fans.
Two minutes later Kilderry was unlucky when her well-timed volley cannoned off the near post.
When the whistle blew for the last time it signalled the end of an impressive second-half display from the champions who played at a tempo and with a cutting edge, they will need to maintain throughout the Grand Final.
Meanwhile, Langwarrin import Connor Belger had a big weekend winning both major club awards.
On Friday night Belger was named senior players' player of the year with fellow Liverpudlian Paul Speed runner-up while Nick Simmons won the reserves equivalent and Elliot Clarke was runner-up.
Belger repeated the dose at the club's presentation night on Saturday by winning the senior best and fairest with another UK import, Alex Metcalfe, runner-up.
Clarke won the reserves best and fairest and Nevin Velupillay was runner-up.
Belger was top scorer in the seniors with 12 goals while Jack Thornton's 17 goals clinched the reserves top scorer award.
Simmons was named best upcoming junior while Scott Powell and Chris Jones were joint winners of the club person of the year award.
Katherine Webb and Chloe Swannell shared the senior women's best and fairest award with Webb top scorer with 14 goals.
In other news, Paulo Pinheiro has firmed as favourite to retain the senior coaching post at Seaford United, which was relegated from State 2 South-East last season.
"I've really enjoyed my time here and there's a strong feeling of unfinished business so I'd welcome the opportunity of getting this team back to winning ways," said Pinheiro.
Seaford president Willie Lynn will recommend to the new committee that Pinheiro be reappointed for a third straight season.
This weekend:
SUNDAY 10am: Calder Utd v Southern Utd, NPLW under-13 grand final at ABD Stadium (Barry Road, Meadow Heights).