SOCCER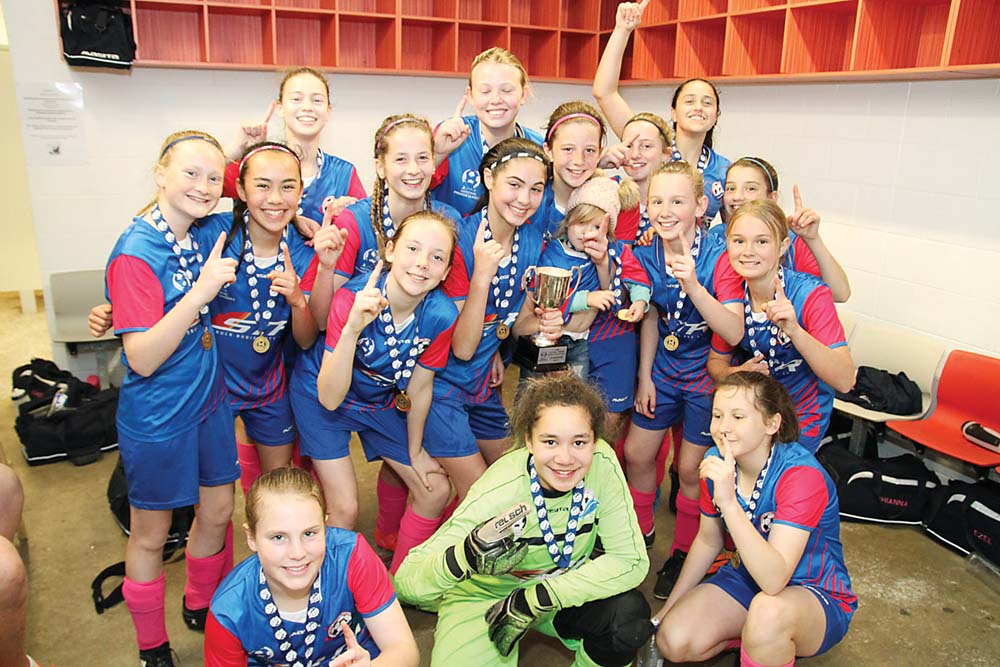 SOUTHERN United's all-conquering under-13s capped a stellar season with a 2-0 Grand Final victory over Calder United at ABD Stadium in Meadow Heights on Sunday.
Southern had clinched the NPLW championship some weeks earlier but had lost the qualifying final 1-0 to Calder.
"We told the girls if we didn't match them physically especially in the first five minutes that they would own us so we told them to go shoulder to shoulder and be very physical but don't foul," said Southern head coach Emma Bracken.
"We wanted to show them that we weren't going to get pushed off the ball."
Southern's intent was clear from the outset and in the opening exchanges Southern right winger Danica Vukcevic made it clear that if anyone was going to be bundled off the ball it was her opponent.
"I thought Danica was outstanding and I'm not just talking about her work on the ball but her desire, throwing her body in time and time again," said assistant coach Aaron Myatt.
Bracken and Myatt had decided to start Golden Boot winner Rhys McKenna on the left wing with usual winger Candy Kilderry playing in the central striker's role.
In the qualifying final Calder had double-teamed McKenna with a holding midfielder dropping deep but now it had to change its plans.
To add to Calder's unease the Southern pair were given licence to switch their roles without instruction from their coaches so that the Calder bench couldn't hear and react immediately.
McKenna forced Calder keeper Keara Califiore into a fine save low down at her near post in the 6th minute and in the 12th minute Kilderry bobbed up on the left but shot wide.
Calder's first main threat came in the 23rd minute when striker Olivia De La Plaza-Sanchez burst clear inside the area but Southern central defender Alex Jones intercepted superbly.
Bracken and Myatt swung the second part of their plan into action at half-time switching Taylah Hennekam into central midfield as they had done to good effect in the preliminary final against Bayside United the previous week.
Talia Palmer came on at left back, Emily Ryan switched from left to right back and Ezel Duyar linked with Jones in central defence.
The breakthrough came five minutes into the second half when a McKenna corner was played back to her by Alessandra Davis at the near post and McKenna's second cross was headed home by Hennekam after Califiore couldn't stop the ball from wriggling out of her grasp and crossing the line.
Calder had a mountain to climb in the 42nd minute after a Hennekam shot was blocked and fell to Kilderry who hammered a left-foot strike high into the net to make it 2-0.
By now the champions were in full flight and a sweeping move in the 47th minute involving Davis, McKenna and Kilderry deserved a better ending but McKenna couldn't control Kilderry's cross from the left.
In the final analysis Southern established its credentials as the best under-13 side in the elite competition in emphatic fashion.
"I thought the defence was unbelievable and Caddy (Vakacavu) had a great game in goal," said Bracken.
"She struggled in the first half of the season with coming off her line but it just seems to have clicked with her in the last few weeks and she has the tools to go further."
In other news recently appointed Langwarrin technical director Stephen Fisher has been a busy man as the club gears up for its first venture into NPL ranks.
Fisher has been overseeing the interview process for a raft of coaching appointments and last week Frankston Pines assistant Kevin "Squizzy" Taylor was named coach of Langy's under-20s, which will be the club's reserves team squad.
Taylor was one of five applicants for the position and is well known in local circles having played for Langwarrin, Mornington, Seaford United and Frankston Pines.
He won two promotions as senior coach of Seaford and in 2015 he won the Under-20s championship with Bentleigh Greens in his first year as an NPL coach.
Taylor holds an AFC B coaching licence and was the preferred choice of long-serving Langy senior coach Gus Macleod who will be in charge for the 20th straight season.
Langy's 2017 championship-winning reserves coach Ronnie Whitton has been appointed as an assistant to Macleod alongside Robert Mathieson (junior) while Robert Mathieson senior retains the team manager's role.
Chris Jones is goalkeeping coach and Peter Tuckett will again be the club's fitness advisor.
The club also announced the appointment of Doug Hodgson as under-15s head coach.
Hodgson played with Pines as a junior and his senior career was highlighted by his time at Heidelberg United and his professional career with Sheffield United, Plymouth Argyle, Burnley, Oldham Athletic and Northampton Town in England.
His career ended prematurely when he suffered a serious neck injury at the age of 29 and he became the first Australian to coach professionally in England when he was appointed reserve team manager at Sheffield United.
Hodgson holds a UEFA B coaching licence and recently coached Mornington's under-14A side to the state title.
"The NPL is a great opportunity for kids all over the peninsula to find a development pathway outside of community football and there are kids out there that will need to be challenged to see if they are capable of taking the next step forward," said Hodgson.
"That's the part of the game I really enjoy – helping a kid to fulfil their dreams – and on a personal level I want to put something back into a game that has been very good to me."
One of two under-12 squads will be coached by Andy Duckett, who has had two seasons at Bentleigh Greens while Langy continues to negotiate with a candidate for the second under-12 post.
Gary Brisbane will be in charge of the under-13s and Don Delaney will be in charge of the under-14s.
Delaney coached Springvale White Eagles' under-13s to a third-placed finish this season.
The under-16s senior coach is Michael van der Zvet who joins after three successful seasons as a junior coach at Bentleigh Greens.
Meanwhile Paul Williams has been re-appointed senior coach at Frankston Pines with Lee Davies as an assistant and reserves coach.
Pines' presentation night will be held at its Monterey Reserve clubrooms on Saturday 7 October starting at 7.30pm.
Irish goalkeeper Colin McCormack did the double at Peninsula Strikers winning the players' player of the year award and the senior best and fairest.
Hayden Taylor followed suit winning the reserves players' player of the year award and the reserves best and fairest.
Aiden McKenna was the senior rising star and Callum Mitchell was the reserves rising star.
Strikers' search for a senior coach has narrowed to a field of five and the club is expected to make an announcement later this week.
Skye United defender John Andrinopoulos has won the players' player of the year award with captain Mark O'Connor runner-up.
The reserves players' player of the year was Daniel Jones and Lawrence Komba was runner-up.
Senior coach Billy Armour has been re-appointed for 2018 as has reserves coach Liam George.
The club hopes to retain the services of Billy Rae as senior assistant.
Skye will hold its senior presentation night on Saturday 28 October at Patterson Lakes Community Centre starting at 7pm.
Skye also is running a summer skills program from Thursday 9 November to Tuesday 7 December and from Tuesday 16 January to Tuesday 6 February for boys and girls aged five to 16.
Carlo Cardoso has won Rosebud Heart's senior best and fairest award with Cory Osorio runner-up.
Cardoso also won the players' player of the year award with goalkeeper Sean Skelly runner-up.
At the recent AGM Tracy Reilly became Heart's first female president with Jason Symonds re-elected vice-president.