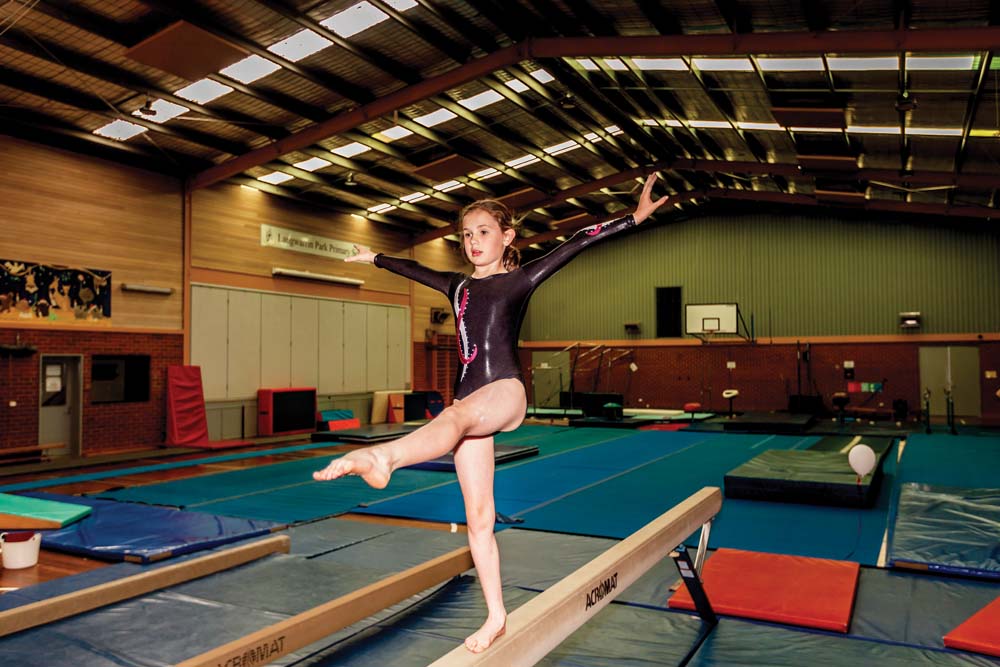 A LAST-MINUTE appeal by a gymnastics club to Frankston Council to "keep its word" on including the sport in a proposed tennis centre and sports hub has kept gymnastics in the frame for a berth at a purpose-built complex at Centenary Park.
South ward councillor Quinn McCormack introduced an amendment to a council officers' report at last Monday evening's public council meeting on 25 September to keep gymnastics in mind for Centenary Park.
The council officers' report tabled at the meeting recommended council proceed without including gymnastics at the proposed sports hub.
Councillors backed the amendment to still investigate the option after it looked like Bayside Gymnastics would lose a place at the hub that will include Frankston Tennis Club and Frankston East Tennis Club courts.
The council officers' report estimated it would cost about $14 million to build a "two-storey tennis only facility" and about $25 million to include a regional centre for gymnastics.
Some councillors at the meeting noted a council officer who no longer works at Frankston Council had allegedly told Bayside Gymnastics last year that the club would be included in the planned sports hub.
Cr Colin Hampton said: "There has been no decision made by the councillors — none at all. The officers might have gone and said something while they were negotiating with these people but it was not with the wishes of this council."
Cr Hampton, a member of the Centenary Park Golf Club that pulled out of the sports centre project in January, also stated an alternative venue for gymnastics may be found in the municipality.
The Local Government Act allows councillors to vote on club related matters if they are not "an office bearer, employee, consultant or agent" of the organisation.
North-East ward Cr Sandra Mayer dismissed claims that council had gone back on any promise to Bayside Gymnastics.
"Let the lesson be learnt that a verbal commitment from an officer is not the same as a council resolution that is something that's in writing," she said.
Cr Mayer suggested Mornington Peninsula Shire council could help Frankston Council lobby for federal and state government funding to build a regional centre for gymnastics and questioned why Bayside Gymnastics will not pitch in money to build the sports hub.
"Being that it is such a large club and there is such a big wait and there's a great demand for it, I would expect that there would be some financial contribution," Cr Mayer said.
"The council actually has a policy that there should be a contribution."
Frankston Tennis Club is being forced to vacate its Yuille St courts due to an imminent expansion of the adjacent Frankston Hospital.
Several Bayside Gymnastics club members, including 9-year-old gymnast Bailey Newham, addressed councillors at the council meeting to plead for a gymnasium for Bayside Gymnastics to be installed at the proposed McClelland Drive sports hub.
Bailey, the daughter of club vice-president Mel Newham, said she hoped council would honour a commitment to house gymnastics at Centenary Park.
She said it takes "a long time" to set up and pack away equipment at a Langwarrin Park Primary School gym the club leases for gymnastics sessions.
"I could concentrate on training. We could have our own competitions and we could train days," Bailey told councillors at the meeting.
"I don't even understand what the word 'politics' means but I'm old enough to understand the meaning of the word 'integrity'. My mum and dad have taught me that when you make a promise you have to follow through.
"It's kind of like a vote for our school captains. Some people are really honest in speeches and say what they can do and some people tell stories about what they really don't mean.
"Please, please include Bayside Gymnastics at Centenary Park complex like you said you were going to."
Frankston Tennis Club relocation subcommittee chairman John McGillivray also addressed councillors last week.
"We have never objected to that [relocation] and will never object to that because they're a community-based hospital bigger than a tennis centre and they must go ahead so we have no problems in relocating," he said.
"However, I'm extremely disappointed that gymnastics aren't included. They're a great fit as a sporting body to mix with tennis. We always thought they were something that would work well with tennis."
Gymnastics Victoria facilities development manager Aaron Tenabel spoke to councillors at last Monday's meeting.
Mr Tenabel said Bayside Gymnastics — which has more than 400 members — could not afford to contribute funding to the hub but would pay about $120,000 in rent each year compared to about $40,000 from each tennis club, based on previous financial modelling for the project.
"Gymnastics can pay its own way providing the facility is built," Mr Tenabel said.
He said the body representing gymnastics across Victoria has recently formed a "Friends of Parliamentary group" at a state level, headed by Carrum Labor MP Sonya Kilkenny.
Gymnastics Victoria will advocate for state and federal funding for Centenary Park, Mr Tenabel said.
Federal Dunkley Liberal MP Chris Crewther has indicated he is willing to work with Frankston Council to try to obtain federal funding once the project scope is known.
Council has committed $1.5 million of ratepayers' money to the Centenary Park proposal at this stage. Frankston Tennis Club has pledged $1.5 million it will receive from Peninsula Health for relinquishing its lease on the Yuille St land.
Frankston Tennis Club treasurer Con Markopoulos confirmed the club had signed a deal to relinquish its lease last Thursday (28 September).
"The council has shown they're still interested in proceeding with the project so in good faith we've signed the deed of release in that we have verbal assurances that they're going to get the project funded and off the ground," Mr Markopoulos said.
Council officers will now investigate options to either include a regional centre for gymnastics at Centenary Park or find an alternative venue.
A start date for construction has not been finalised.
First published in the Frankston Times – 2 October 2017