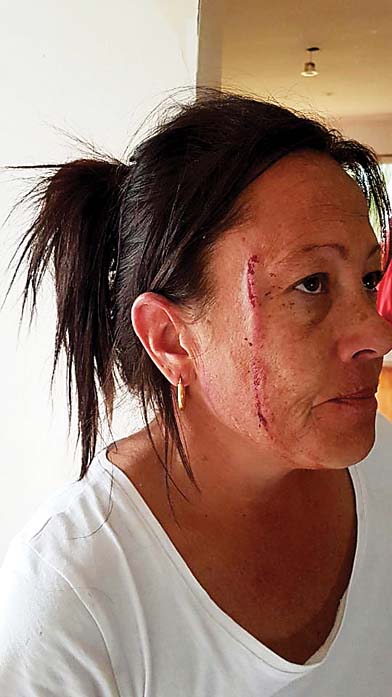 PATTERSON Lakes resident Steven Taylor is appealing for witnesses after alleging he and his wife were assaulted by a Fisheries Victoria officer when they returned to the Olivers Hill, Frankston boat ramp on Friday 22 September.
Mr Taylor said the "entirely unexpected" alleged assault occurred after they returned from a boat ride to Mornington.
The alleged assault with fists, baton and capsicum spray left him with broken front teeth and facial and bodily bruising, while his wife received severe facial bruising after being "stomped on three times".
Acting Senior Sergeant Patrick Hayes, of Frankston police, said later: "I can confirm our attendance at an incident on Friday 22 September at the Frankston jetty.
"This matter is currently being investigated and the details of all parties were obtained at the scene."
The Victorian Fisheries Authority confirmed an "altercation" occurred but would not elaborate.
"On Friday 22 September at around 2.25pm, two fisheries officers attempted to conduct an inspection of two people at Olivers Hill boat ramp in Frankston resulting in an altercation," the VFA said in a statement.
"Victoria Police are investigating the incident and, therefore, it is not appropriate to make any further comment."
Mr Taylor said there was "absolutely no reason [for the attack] considering we weren't even fishing".
He said the two Fisheries officers in plain clothes asked, "How did you go?" when they approached him at the ramp.
"I assumed they were just fishermen and replied 'good'," he said. "I told them we had gone for a cruise to Mornington and back on a calm day.
"[One of the men] then stated he was from Fisheries and asked for my identification. I complied with his request and showed [it] and replied that I didn't need a fishing licence because I was not fishing.
"He then said he and his partner would inspect my boat and car. I said, 'Fine, go for it, there's only cheese and crackers and a few drinks in the esky'."
Mr Taylor said his boat had "no rods set up, no tackle box, no bait – no signs of any fishing whatsoever".
Tensions escalated after Mr Taylor got a "tad mouthy" and challenged the officer's right to inspect his boating safety gear rather than his fishing gear.
"He got offended by my reply and went to spray me with his capsicum spray," he said.
"I went to jump in the car and wind up the window when he hit me numerous times to the face and chest area [while] trying to grab the car keys.
"I was being pounded, with blood everywhere, and lost my front teeth."
Mr Taylor's wife Shauna Martin screamed at the other fisheries officer to stop the alleged attack.
"She ran around to stop him [and] he punched her to ground and then stomped her head three times.
"Eventually he stopped after his partner shouted: 'Stop, stop, you'll kill her'.
"It's a low act to assault anyone, let alone a defenceless woman and especially without any reason – regardless of a little lip.
"He had no right to use violence."
Mr Taylor, who said he had previous criminal convictions, the "most recent 13 years ago", confirmed he was seeking legal advice.
He is urging witnesses to come forward – especially those who he thinks may have filmed the incident.
"There were about 150 people in the car park that day," he said.