SOCCER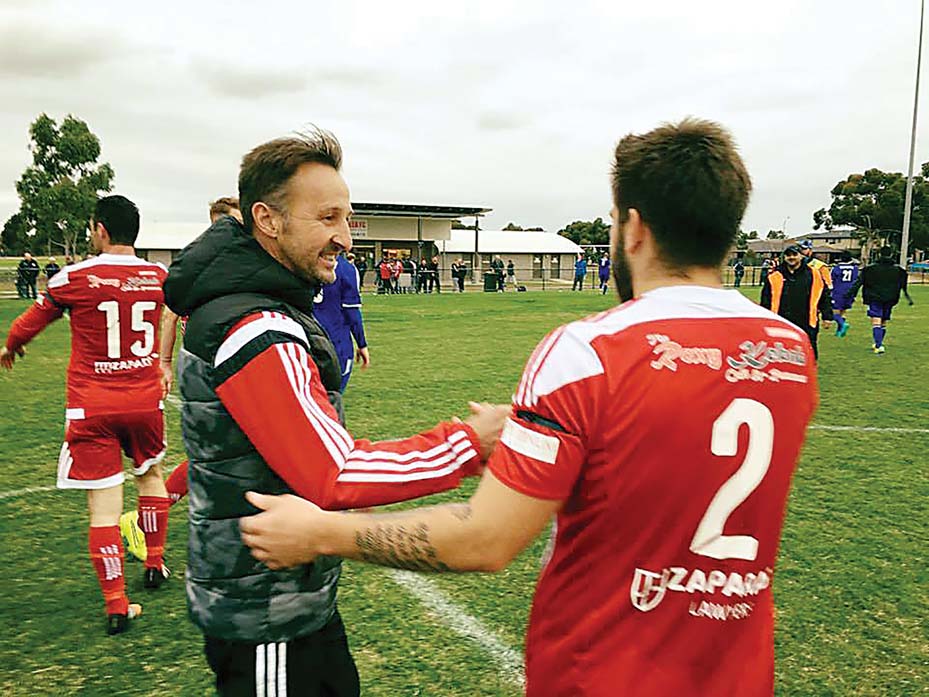 LOCAL soccer will never quite be the same after Peninsula Strikers announced last week that it had appointed a human tsunami called Andy O'Dell as senior coach.
There has been much speculation as to the fall-out from Strikers' relegation from State 2 South-East this year but re-elected president Trevor Johnston and his committee, which includes former coach Craig Lewis, have made a clear and unambiguous statement of intent.
Ex-English pro O'Dell is renowned for his forthright views and scant regard of political correctness and he didn't waste time in offering a blunt assessment of what needs to be done to revive Strikers' fortunes.
"I've spoken to a couple of players there already and the rest can pack their bags," said O'Dell.
Even the club president was unable to escape the blunt O'Dell approach.
"As soon as he appointed me I retired him. I told him there's no room in my squad for 40-year-olds."
And the shocks kept coming.
"I've got four lads from the UK that are coming to Strikers and I've already got 10 local players keen to come down here," said the man who guided Altona City to this year's State 2 North-West championship and the Victorian State 2 title.
"Wait till you see some of the names that are coming. You'll be surprised."
Aron Wilford is one of those names.
The big English central defender is now 35 and he's played with Southern Stars, Dandenong Thunder, Bentleigh Greens, Oakleigh Cannons and St Kilda.
Wilford will hold a meeting with Strikers tonight (Monday) with a view to signing on as assistant player-coach.
"The four boys from overseas know what's expected of them.
"This is the deal – play with us for a year and get us promoted and if you want to stay that's okay but if you want to move that's okay too.
"They're paying their own airfares over here so basically we've got to get them a job and sort out their accommodation.
"They're all under 24 and they're dead keen to come over."
O'Dell can lay claim to being the winningest coach in Victorian soccer.
Eleven promotions in 18 seasons speaks for itself.
He had 10 years as a professional player in England. He was with local club Hull City as a junior then joined Grimsby as an apprentice and made his senior debut as an 18-year-old midfielder against Chelsea at Stamford Bridge.
O'Dell was in the 30-man England squad preparing to come to Australia for the World Youth Cup Finals in 1981 but when that squad was pruned to 20 he missed out on selection.
He also has a vivid memory of the first time he came face to face with Scottish and Derby legend Archie Gemmill at the old Baseball Ground in Derby.
"Our manager told me to stick close to Gemmill but to be honest the closest I got to him was in the bar after the game. He was magnificent, easily the best player I ever played against."
O'Dell also played with Rotherham, Torquay and Darlington before coming to Australia for the 1988 season and ironically it was the man who he has replaced at Strikers, Willie Raynes, who contacted him about coming here.
O'Dell, Raynes and Phil Stubbins were mainstays in the Terry Hennessey-led Heidelberg United side which won the 1988 State League championship.
O'Dell also played for Fawkner, Morwell Falcons, Perth Croatia, Croydon and Mitcham.
His coaching resumé lists stints at Mitcham, Chelsea Hajduk, Whittlesea Stallions, Richmond, Northcote, North Coburg, Dandenong Thunder, Sunshine George Cross, Bentleigh Greens, Fawkner, Preston Lions, Cairnlea and, of course, Altona City.
He joined Altona City in 2016 after the club had played seven games and lost five.
O'Dell brought in new players and the club was undefeated for the remainder of the season just missing out on promotion.
Getting the club into State 1 was his goal in 2017 and he did it in style winning the championship with a three-point margin over Hopper's Crossing and recording a 4-2 victory over Eltham Redbacks in the state final.
"I felt that I'd taken the club as far as I could and I sat down with them and explained my point of view so there was no animosity when I left."
O'Dell was immediately in demand with two NPL2 clubs offering him the senior coaching position.
"I knocked back both of them. One of them hadn't even sacked the coach!
"I came down to Strikers to meet with Trevor. It had been a long time since I'd been down to the ground and when I looked at the set-up I just thought to myself 'I like it here. It's nice'.
"I'm not going to mess about. I've come here to get promoted and my plan is to get this club into division one.
"There's going to be a massive revamp of the squad and when we start pre-season training it's going to be full-on.
"There will be players coming, players going, players getting upset but it's full steam ahead no matter what."
Pre-season training starts in earnest on Tuesday 9 January.
There will be another training session two nights later then O'Dell has scheduled three sessions a week for the next 10 weeks with training on Monday, Wednesday and Friday.
"This club has everything, apart from the team.
"When coaches go to clubs if they don't bring players with them they usually end up struggling.
"I live fairly central (in Sandringham) and I know lots of players in fact I've probably spoken to about 40 players since taking this job.
"I think I can get this club back on the map and I think that's important for the game down this way.
"I want to have a good working relationship with Gus (Macleod) at Langwarrin and 'Jamo' (Adam Jamieson) at Mornington especially with regard to the movement of players.
"The people that know me know how much I like winning and I want to bring the good times back to this club."
Meanwhile NPL giant Oakleigh Cannons announced last weekend that it had won the race for the signature of Mornington ace Ryan Paczkowski.
"Oakleigh seemed like the right fit for me as I'll play as the number 9 and I also liked their ambitions," said Paczkowski.
"Thankfully Mornington understands my decision.
"I'm sad to be leaving. I love the club and if we had gone up I would have stayed but I'd like to play at the top while I'm still able to."
It's believed that the ex-Bentleigh Greens star attracted offers from his former club along with bids from Bulleen, Northcote City and Dandenong City.
Paczkowski leaves Dallas Brooks Park as State 1 South-East's Golden Boot winner.
FFV finally released its 2017 State Leagues best and fairest votes and Golden Boot winners last week.
The hold-up was due to outstanding referees' votes albeit that the league season ended in early September.
Rosebud Heart star David Greening added the 2017 best and fairest award to his Golden Boot honour in State 4 South.
That's his third league best and fairest award. He topped the voting a few seasons back but was ineligible due to suspension.
In other news Southern United is on the lookout for a new technical director after the resignation of Mark Cassar.
The women's NPL club also has called for expressions of interest in the senior coaching post and the position of youth team coach.
Applications close this Wednesday 18 October and applicants should email the club at southernunitedfc@gmail.com.