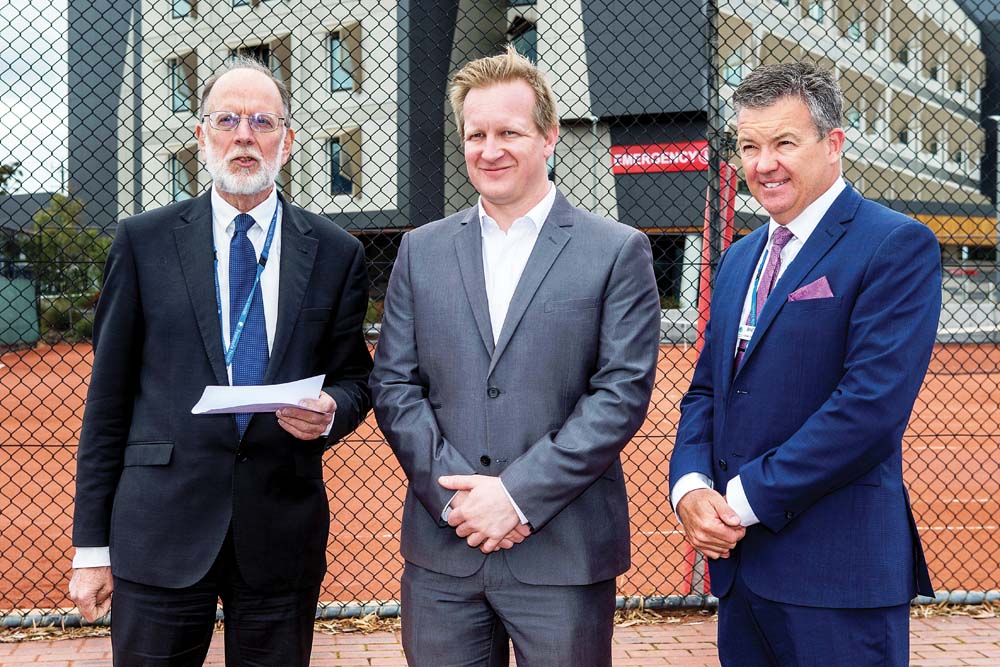 A DEAL was sealed last week for Peninsula Health to buy out Frankston Tennis Club's lease at Yuille St ahead of a planned expansion of adjacent Frankston Hospital.
Peninsula Health acting CEO David Anderson and Frankston Labor MP Paul Edbrooke made the formal announcement last Monday (23 October).
"This significant agreement allows us the opportunity to explore growing the hospital into the space currently occupied by the tennis club, so that we can better serve our local community," Mr Anderson said in a statement.
"It will also allow us to further expand our teaching and research partnership with Monash University, which helps to deliver world-class care for local people."
The tennis club and courts sit on two parcels of land including crown land and a council-owned portion.
It is understood that Peninsula Health will pay $1.5 million to Frankston Tennis Club for the club to walk away from its lease in two years' time and $1.5 million will be paid to council for land.
Mr Anderson said Peninsula Health cannot "release any detail of the financial arrangements of this exciting development due to commercial-in-confidence reasons".
The $3 million on its way to the tennis club and council has been earmarked towards a new tennis centre to house the Frankston Tennis Club and its planned amalgamation with the Frankston East Tennis Club.
Frankston Tennis Club relocation subcommittee chairman John McGillivray said he hopes council honours its pledge to help the tennis club find a new home.
"We've been forced to sign the deed of release by the end of September," he said.
"If we didn't sign that then Peninsula Health were withdrawing the $1.5 million."
Mr McGillivray said a mooted regional tennis centre at Centenary Park or elsewhere will be built by the time the tennis club has to vacate Yuille St in early 2019.
"If council doesn't get a wriggle on we'll have to move out and have nowhere to move to."
A council officers' report tabled at September's public council meeting estimated a new tennis centre will cost about $14 million, and $25 million if a gymnastics area is included.
Councillors have not yet decided on funding or designs for any sports complex at Langwarrin's Centenary Park.
Centenary Park Golf Club pulled out of the proposed project early this year.
Mr McGillivrary said "it is really concerning" that designs have not yet been finalised to potentially secure state and federal government funding for a regional tennis centre.
He says any attempt to instead spend the $3 million from Peninsula Health to spruce up the Frankston East Tennis Club's facilities at Frankston North.
"It would be the end of both clubs – it's not a popular spot."